Dream combines preschool, nature center in city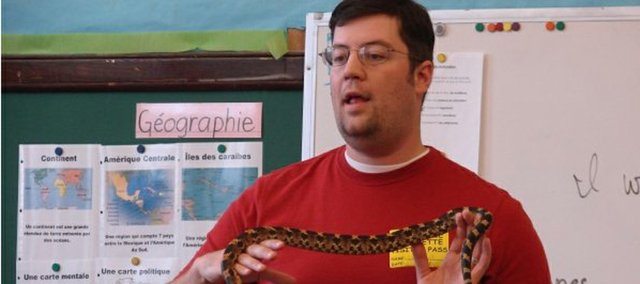 Shawnee resident Dan Krull has a unique vision he'd like to bring to life in Shawnee.
The animal enthusiast hopes to create a combination public nature center and Montessori school. To kick-start the effort in the community, he is staging a "Chili Throwdown" from noon to 4 p.m. Sunday at Town Hall, 11600 Johnson Drive. Chili cooks can enter for a $1,000 prize and the public to partake in some fun family activities.
Krull works for UPS in his day-to-day life, but he also classifies himself as a freelance herpetologist.
"You will never again meet someone as weird or unusual as me," he jokes.
Interested in animals his entire life, the Shawnee Mission Northwest graduate has turned himself into an expert on reptiles and amphibians, aiding in local research projects and writing articles for herpetology journals. He also gives presentations about reptiles and amphibians in local schools and at events like reptile shows.
His love for herpetology goes so far that three years ago, he and some friends put together the idea for a TV show on the subject and shot a pilot episode. Though the show didn't catch on, it led to the creation of Krull's nonprofit organization, Small Scale Films Inc., which creates educational documentaries.
His idea for a nature center and school first took root when he was talking to the owner of the Montessori school that his son attends. The owner was considering selling the school, and Krull was intrigued by the idea of creating a school that would use the some of the teaching principles he used in his classroom herpetology presentations.
"So I kind of came up with this whole crazy idea for a combination nature center and school," he said.
Though the owner of his son's school eventually decided not to sell, Krull's idea didn't die. With the help of his wife, who is an educator, Krull has worked to further develop his idea. He envisions a public nature center that focuses on conservation and what residents can do to support conservation in their own back yards.
A school on the site would use nature or science as a basis to teach all subjects. Krull has gotten in touch with a Montessori expert to discuss creating such a program.
"So basically, it's tying into the whole educational process that makes a kid say 'Wow, this is so cool,' but at the same time, they're learning something," he said.
Krull said he also has talked to Shawnee-based Operation Wildlife about the nature center becoming a home for the animals it isn't able to rehabilitate and release into the wild.
Ultimately, Krull said he'd even like to create a DNA lab and research station that could be used for public education, with a full-time scientist on staff.
The "where" of the plan is one detail not yet set in stone. Krull said he has found what he thinks would be an ideal property in western Shawnee off Mize Road, but with a nonprofit venture, a land purchase isn't an option yet. Still, he hopes his plans ultimately come to life in his hometown.
"I'm kind of set on Shawnee as the place I want to build it, because I live here, and I think the city in general kind of values this sort of educational institution," he said.
This weekend's chili cook-off will serve as the public launch and first fundraiser for Krull's idea. He decided to have a cook-off after learning that a similar event was successful for another Montessori school, and he is linking it to the idea of conservation his nature center and school would support.
"This has sort of become a look at home-cooked meals and using local food," he said. "Eating things that were grown at home is one way to effect conservation positively."
Krull said many of the entrants and vendors with booths at the event are from companies or organizations using locally-grown products.
For the general public, the event will include all sampling the chili entries, beverages, a raffle and family activities including bounce houses, face-painting, street performers, a live-animal display and activities with Wonderscope Children's Museum of Kansas City. Admission is $10.
Chili cooks can enter the contest to put their chili before a panel of local food experts, with the winner receiving a $1,000 prize. Thanks to sponsor Toshiba Business Solutions, the event will include a total $2,000 in cash prizes for the chili and raffle winners.
"One of the things we're hoping is the chili cook-off fundraiser will draw attention to what we're doing," Krull said. "… The goal is to get the ball rolling from a fundraising standpoint, but also get the word out."
There are no restrictions for chili recipes, and cooks are encouraged to use various types of meat and locally grown products. Entries should be cooked before the contest and brought to the contest in Crockpots. Serving tools and judging containers will be provided. The contest is free to enter, though entrants are charged a $20 fee to hold their position, which is returned the day of the contest.
Judging criteria and other cooking details are listed on the entry form. To obtain an entry form, contact Krull at nasicus@hotmail.com.