Jaguars rip Barstow 5-0, pick up fifth victory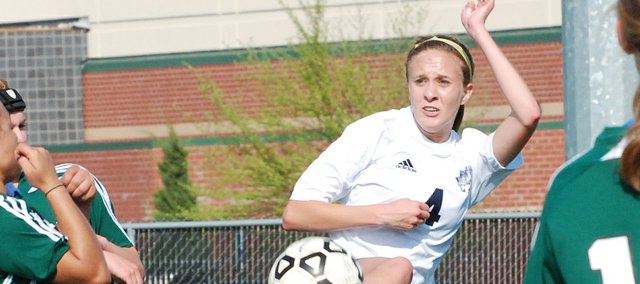 After five tough games on the road, the Mill Valley girls soccer team finally played its home-opener Monday afternoon against Barstow Academy.
Photo Gallery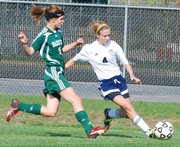 Mill Valley 5, Barstow 0
The Jaguars gave their fans a treat that was worth the wait.
They dominated Barstow in a 5-0 victory that was much more lopsided than the final score would indicate.
Mill Valley attacked into a strong headwind throughout the first half and still kept the ball in Barstow's defensive third of the field for the majority of the time. Rushed shots and the wind pushed numerous good scoring opportunities wide, but MVHS capitalized on three before halftime.
After Mill Valley came close a handful of times in the first few minutes, senior Kyndra Ziegler fed a perfect pass to sophomore Kelsey Wakefield who was attacking from the left side. Wakefield punched the ball into the net for a 1-0 lead in the ninth minute.
The Jaguars scored again less than two minutes later. Junior Miranda Lopez send a corner kick into the box to Wakefield. Her shot was deflected by the defense, but junior Kaitlyn Butko collected it near the back post and put it into the net for a 2-0 lead.
The Jaguars continued to pepper the Barstow goal for the remainder of the half, but they misfired on numerous golden opportunities.
They finally got on the board again in the 29th minute. Wakefield tallied an assist on the third goal when she drove down the left side and fed a pass to freshman Mackenzie Conklin in the middle. Conklin unleashed a shot that sailed past the keeper for a 3-0 lead that stood through halftime.
Freshman Mackenzie Koch and senior Jenna Wells both scored in the second half. Senior Jenna Gilliland recorded the shutout in goal.
Mill Valley (5-1) next plays at 6 p.m. Tuesday, April 20, at Lansing. A victory could give the Jaguars the upper hand in the race for the Kaw Valley League championship. They already have a 2-0 league mark with victories against Piper and Tonganoxie.
Mill Valley's other KVL games take place April 26 at Bishop Ward, May 4 against Basehor-Linwood and May 11 against Bonner Springs.