Longtime Council member lauded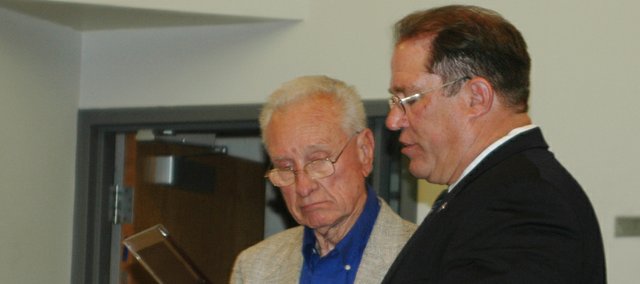 The Shawnee City Council experienced something Monday not often seen in the city for the last 32 years: a meeting without veteran Council member Frank Goode.
Goode, 80, ended his tenure with the city — 34 years of service when two years on the city's Planning Commission are included — after losing to opponent David Morris in the April 6 Council elections. On Monday, the city announced it would recognize Goode's three decades of service by renaming the Public Works Service Center after him.
"I'm sure we couldn't find but a handful of individuals across the country who have served their community for 32 years," Mayor Jeff Meyers said. "That kind of commitment to the community deserves recognition that a plaque could never give."
Before the meeting, Goode explained his feelings about ending his Council member career.
"I got a lot of regrets from people, saying I'm the watchdog for tax increases, and they were very, very sad that they do not have me to represent them anymore," he said. "But you can tell, I'm not very sad about the whole thing."
Perhaps that's because Goode has a lot to be proud of.
Goode grew up in Shawnee, attending St. Joseph Grade and High schools. He also attended Donnelly College, Rockhurst College and Finlay Engineering School. A Korean War veteran, Goode spent his professional career as a division sales manager for the Stuart Hall Co.
He first became involved in the city when he was appointed to the Planning Commission a year before running for Council in 1978.
Gary Montague, Shawnee's former city manager for 30 years, said Goode was always working for the senior citizens of his ward.
"Frank did a lot; he was very conscientious in his responsibility," Montague said. "I enjoyed working with Frank, he was really a dedicated person. He served his constituents, he represented them, and he certainly felt he was the spokesperson for his ward and that's how he treated his position."
Former mayor and current County Commissioner Jim Allen agreed. Between his time as a Council member and his years as mayor, Allen served 19 years with Goode.
"Frank really tried," Allen said. "If you called with a problem or a situation, he was up here at City Hall, grabbing the city manager to go check into the problem in person."
Goode said his early focuses were expanding the city and improving its infrastructure while holding the line on taxes. He is especially proud of his support of tax abatements, especially those for Bayer Animal Healthcare, which he feels kept the major employer in the city.
One of Goode's younger brothers served on the Council before he did, but Goode said his decision to get into local politics was all about serving his friends and neighbors.
"For 34 years, I followed the will of the people, and the will of the people has always told me to file, file, file," he said. "And had I not been told by the people to file, I probably wouldn't have filed for all those terms."
For most of his time on the Council, this meant running for re-election every two years, until the city switched to four-year terms. And it quickly became clear that the residents of Ward II felt Goode was representing them well. In the early 1980s, he easily beat Charlotte Hargis, a popular Council member who had moved from another ward and filed against him.
"That's where he got his reputation as 'Landslide Goode,' because he won so handily," Montague commented.
Thereafter, Goode often ran unopposed. He said he often talked to people in his ward who indicated an interest in running for Council but refused to run against him.
Goode watched tremendous growth in the city in the past 30 years, both in population and area, as the city expanded west of Kansas Highway 7.
Goode said he thought that the city did a good job managing growth, but it became the victim of the failing economy.
There were occasions when Goode has not been so proud in the past few years.
He was not happy with the division on the Council and the number of votes decided by four Council members and the mayor. He didn't like the votes to raise taxes.
"We are going to have to be more frugal in the next two years," he said.
Goode remains active, helping out for the past two and a half years at Goode Brothers Asphalt, the business his brothers started about the same time Goode started on the Council. And he plans to stay on top of the happenings with city government.
"Any time there's an important issue, I'm going to be there, and I've received a lot of calls from a lot of people who want to be there with me," he said.
He said he'd like to see more economic development and support of businesses, as he'd like to see Shawnee's vacant commercial spaces filled. But he also doesn't want to see tax increases.
"In the next two years, there's going to be a lot of turmoil as far as how we're going to raise revenues and what we're going to do, and I'm going to be a very vocal opponent of anything that's not businesslike, because I believe in running (the city) like a business," he said. "I want to keep the burden of taxation off the ordinary taxpayer and I want to increase the tax base."
However, he said he also has great faith in the city's employees.
"I think the current administration under Carol Gonzales is as good as we can do," Goode said. "She realizes that we've got a lot of problems to overcome.
Goode said Gonzales tries her best to work through the city's problems and to give the Council and the city a better stance on revenues and budget.
Still, this might not be the last the city hears from Goode. He said he hoped to help encourage and advise those who file for the Council election in two years.
"I might even, after two years, if I feel spry and young at 83, I might file for re-election myself," he said.
More like this story