Mill Valley earns softball split with
LHS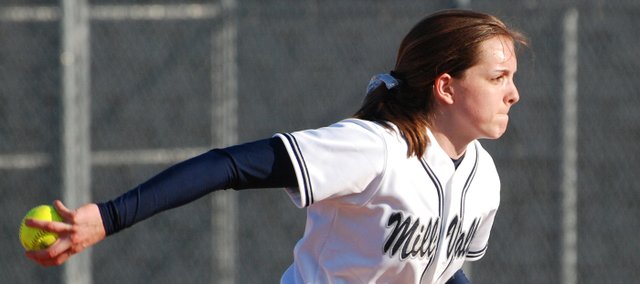 For one game the Mill Valley softball team played with the swagger of a squad expecting to make a third straight trip to the Class 5A state tournament.
In the other, the Jaguars looked every bit the young team that has a long way to improve.
The result was a doubleheader split with Lansing — the reigning Kaw Valley League champion and third-place finisher at state — on Thursday at the De Soto 3&2 Complex.
Mill Valley won the opener 5-3 but dropped the nightcap 10-1.
Second-year coach Sarah Haub said she liked a lot about what she saw from her team, but that the Jaguars need to maintain their focus at all times. When focused, they were in full control of both games, but mental errors in two innings of game two proved costly.
"I'd say they've raised the bar for themselves," Haub said. "They know that they're good enough to beat these teams out here. The thing that we're working on is staying focused through both games."
The Jaguars had an opportunity to hang their heads early in game one but chose not to. Lansing took advantage of an early walk and a fortunate bounce — Rachel Milnark's hard grounder screamed across the dirt, hit the lip of the outfield grass and popped over the right fielder's head and to the fence — and plated two runs in the top of the first.
Mill Valley answered in the bottom of the inning. Jillian Jobe earned a two-out walk and then scored on a double by Taylor Brunson.
Lansing maintained its 2-1 lead until the bottom of the third inning when Mill Valley used a two-out rally to take charge. Kelli Spring pounded a double and Jobe followed with a walk. An error on a hit by Brunson allowed Spring to score. Jobe and Brunson scored on a double by Taszia Roseberry, and Roseberry came home on an error after a hit by Ariel Mull. Suddenly the Jaguars owned a 5-2 lead.
Lansing scored once in the top of the fourth, but Jobe's dominant pitching effort was too much for the Lions to overcome as they put just two runners on base during the final three innings.
Jobe finished the game with 13 strikeouts and allowed just three hits.
"I am stoked that we beat Lansing," Haub said. "They're a tough team; they're a tough team every year, and I'm really proud of the girls for stepping up and beating them. We hit and they made the errors and it fell into place.
"The girls really did play great defense. Jillian pitched a great game. She's really stepped up this year pitching-wise since Katelyn (Appleby) has been hurt. I'm really proud of her."
Back-to-back errors and a hit batter to start game two led to four first-inning runs for Lansing and dug Mill Valley a deep hole. Lansing had four hits and took advantage of three more errors in the third inning to stretch the lead to 10-0.
Mill Valley countered with a run in the bottom of the third. Miranda Fields hit a leadoff single, advanced to second on a base hit by Spring and scored on Brunson's sacrifice fly. That was as close as the Jaguars would get. They stranded the bases loaded in the fourth but were unable to plate another run.
MVHS regrouped after the error-plagued early innings and allowed just two base runners during the final four innings, but the damage already was done.
Still, Haub said she was proud of her players for not hanging their heads after getting down.
"They did a really good job in the dugout of cheering and staying focused (after the bad start), whereas last year it did lack in the dugout," Haub said. "They're doing a much better job of communicating."
Spring highlighted the offense in game two as she went 3-for-4 with three singles.
Mill Valley (3-1 overall, 2-0 KVL) played at 4:30 p.m. Tuesday at home against Bishop Ward. Results were unavailable at press time.
More like this story