Mill Valley production small on props, big on laughs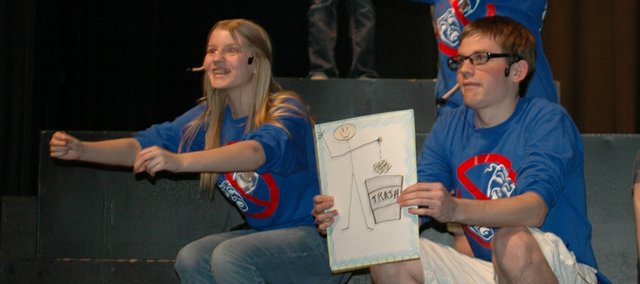 Sixteen students at Mill Valley High School will become more than 130 voices on Friday.
"30 Reasons Not to Be in a Play" debuts at 7 p.m. Friday evening.
The comedy, written by Alan Haehnel, is based on excuses people would give to not audition for plays.
Jon Copeland, MVHS drama teacher, got the idea to produce the play at Mill Valley after seeing it for the first time last year.
"I'd actually seen a friend direct the play and I really liked it," he said. "I was certain it would be a good show."
While the comedy is small on cast, props, costumes and sets, it's big on character.
Each student in the play morphs into 10 to 12 characters, Copeland said.
"When you cast a show you figure out who each actor is going to play. For this play I had to be scientific about it," he said. "I wanted them all to have about the same size and amount of parts. It was finding a lot of balance in different ways to make the show feel like it was spread out."
The use of light cues are also a big part of the play, taking audiences members from place to place.
The numerous scenes of the play gives the feel of a sketch comedy, Copeland said.
He likened the show to "Rowan & Martin's Laugh-In," a popular 1970s sketch comedy he didn't think most students would know of today.
Brayton Young, sophomore, said the lack of props was a hard component to get used to.
"A lot of it's creation," he said. "You have to fake the props. Sometimes you forget that you're suppose to be talking on a phone with your hand near your head and you just drop your arms."
Megan Marquardt, freshman, said she enjoyed the camaraderie of a small cast.
"We've had a lot of fun," she said. "We've had a good time joking around and enjoying the casual performances."
Copeland likened the students' ability to play multiple characters to comedic stars on the big screen.
"It's fun to get the chance to see the actors play different characters," Copeland said. "We all love Mike Meyers in the Austin Powers movies or Eddie Murphy in 'The Nutty Professor.'"
Copeland said the biggest draw for the play was how enjoyable it is to produce.
Brayton and Megan couldn't agree more.
"It's a really fun atmosphere," Megan said. "It's really fun and family friendly."
"30 Reasons Not to Be in a Play" will be performed at 7 p.m. Friday and Saturday at MVHS. Tickets can be purchased for $5 at the theater ticket booth.