Sign variances
OK

'd for businesses in construction zone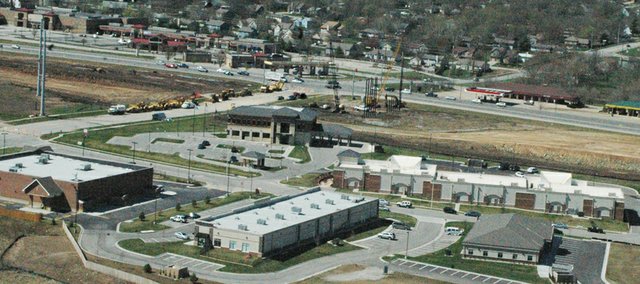 Businesses at the intersection of Johnson Drive and Kansas Highway 7 can now give their customers an extra reminder they are still open and accessible.
The Shawnee City Council on Monday approved some temporary variances that will allow businesses to place promotional signs on the commercial center properties. The regulations for temporary signage were waived to allow businesses to notify customers they were still open during construction.
The city and Kansas Department of Transportation, the partners on the project, have already posted street signs listing the businesses that can be reached via each detour route. But allowing businesses to put up additional signs with their logos to help their customers find them was one option discussed in March when business owners from the area met with the city and state officials.
Under Shawnee Municipal Code, the Governing Body can determine whether granting the temporary sign variances are appropriate during construction projects. The city allowed a similar situation during the reconstruction of Shawnee Mission Parkway west of Quivira Road.
With the sign variances related to the Johnson Drive and K-7 Highway intersection, businesses are allowed the following:
• Temporary signs on buildings that meet sign code requirements. Normally such signs are only allowed for two-week periods no more than four times per year.
• Banner signs placed outside the street right-of-way on or near shopping center property containing multiple names of businesses, not exceeding 32 square feet in size, and not creating a sight-distance problem. Mark Zielsdorf, city planner, said this would allow the businesses to cover the cost together and would prevent individual signs from blocking each other.
• One large "Open During Construction" sign not exceeding 72 square feet listing businesses in a shopping center may be placed on the shopping center property.
Zielsdorf said permits for all signs would be required so the city could keep track of the signs allowed in the area but no fee would be charged. The signs would have to be removed when construction is complete.
More like this story