Three
MVHS

school records fall at Jaguar Invitational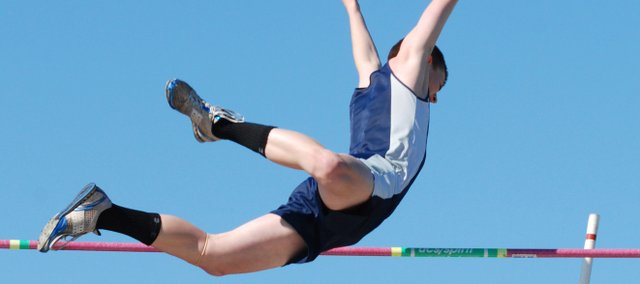 Parker Brush soared to new heights on Thursday at the Jaguar Invitational.
Photo Gallery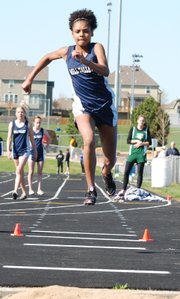 Jaguar Invitational 2010
The Mill Valley pole vaulter took down the school record not once, not twice, but three times on his way to setting a new career best and taking first place and leading the Jaguars to a first-place finish in the team standings.
The old school record, and Brush's old personal record, were 12 feet, 6 inches. On Thursday, however, Brush cleared the bar at 13-0, 13-6 and finally 14-0. Each successful vault was greeted by a round of applause from his teammates and opponents alike, as well as a high-five from MVHS pole vault coach JJ Lawler.
"He crushed the old record," an ecstatic Lawler said just after the competition ended.
Meanwhile, Brush kept his composure long enough to trot across the infield and earn a second-place finish in the long jump (19-3) before taking a moment to reflect on his record-setting performance.
"I was really excited to try to break the school record, so I came in here thinking I was going to do it — and I did it," he said.
Although he's just a sophomore, Brush has been vaulting since the seventh grade so he's hardly a novice at the event. Still, he admitted making such a dramatic jump in one day was surprising considering he is just now beginning to adjust to changing poles during competition.
"I jumped 12 and 13 on the same pole, and I tried for 13-6 and was all the way back on the mat," he said. "So I moved up one pole and that was a good one for a couple jumps."
Brush said the 14-foot vault will give him more confidence for the rest of the season as he prepares to face the talented Gardner-Edgerton vaulters in regionals and shoots for a top-five finish at state.
Thursday wasn't just a good day to vault. It was also good for the MVHS throwers and, in particular, javelin standout Macauley Garton. He broke into the 190s for the first time in his career Thursday with back-to-back throws of 192 and then a 194. Finally, Garton unleashed a school-record toss of 197-4 on his way to a first-place finish. Teammate Adam Farnow was a distant second at 171-2.
Garton said he surprised himself with his breakthrough day after spending Tuesday at home sick.
"I still wasn't feeling very good last night, but I was feeling pretty good today," Garton said with a grin. "I think I can definitely get a little farther. My goal is 205."
Mill Valley swept the shot put and discus competitions. Matt Acree grabbed a pair of golds as he won the discus (136-11) and shot (52-10 1/2). His mark in the shot put was more than a foot farther than the distance that earned him second place at state last year. Chris Mayer took second in both events, while Derek Stene was third in the discus and Jeremy Spalding finished third in the shot.
Kellen Kinnamon led the Mill Valley jumpers as he won the high jump with a clearance of 6-0 and took first in the triple jump with a leap of 40-5.
Ashton Proctor had the lone first-place finish on the track for the Jaguars as he won the 400 in 52.24 seconds. Proctor also ran a leg on the second-place 1,600-meter relay. Trevor Rainbolt, Jarrett Curtis and Colin Wistuba also ran on the relay that finished in 3:37.90.
The Mill Valley girls also dominated the competition at the home meet, outdistancing runner-up Shawnee Mission West by 70 points in the team standings.
Like their male counterparts, the Jaguar girls also thrived in the field events — and the pole vault in particular.
Ashley Bowman matched her performance at last year's Jaguar Invitational as she tied her own school record with an 11-0 clearance. Teammmate Alaina Fairbanks also tied the record and finished second, while Emily Brigham placed third with a 10-0 vault. Brigham paired that with a third-place finish in the long jump (16-7 1/4).
Meanwhile, Emma Umbarger broke her own school record in the javelin and won with a toss of 133-0. Her old record of 131-8 came at state last year when she placed third. Teammate Emily Altman was second with a distance of 112-8 and Emily Eaton finished third at 96-5. Nicole Garretson added a pair of second-place finishes in the shot put (34-9) and discus (105-6), while Erin Graviette finished third in the shot (33-5 1/2).
Jasa DuMontelle cleared 5-2 in the high jump and claimed first, just ahead of teammate Jordan Ross' runner-up mark of 5-0. Also in the jumps, Madison Estell grabbed the gold in the triple jump with a distance of 33 11 1/2, one inch ahead of runner-up Andrea Kieffer.
The Jaguars' dominance continued on the track. Naomi Smith won the 100 (13.16) and Stephanie Scott took first in the 400 (1:02.36). Fairbanks finished first in the 300 hurdles (49.43) and second in the 100 hurdles (16.44), and Rachel Mills took third in both races. Whitney Hartman was third in the 800 (2:31.91), McKenzie Schmitt was third in the 200 (28.94) and Meredith Brooks took the bronze in the 3,200 in 13:20.91.
Other top performances for MVHS came in the relays. DuMontelle, Andrea Kieffer, Brittany Zarda and Scott took second in the 1,600-meter relay in 4:19.75, and Fairbanks, Kieffer, Scott and Brigham were second in the 400-meter relay in 53.00.
EAGLE BOYS, GIRLS BALANCED
Formerly a distance-running powerhouse, the Maranatha Academy boys and girls proved once again Thursday that they no longer are one-dimensional.
Make no mistake, the Eagles still are solid in the distances, but they proved to be more well-rounded at the Jaguar Invitational.
Jacob Kirkpatrick claimed first place in the 100 in 10.95 and took fifth in the 200 in 23.84. Meanwhile, Devante Williams earned a second-place finish in the triple jump (38-0) and took third in the 300 hurdles (45.68).
The Eagles remained strong in their distance races. Mitch Heller won the 1,600 in 4:48.40, Brant Asbell claimed gold in the 800 in 2:06.18 and the 3,200-meter relay team of Asbell, Heller, Jordan Kirkpatrick and Luke Miller took second in 8:56.74.
Bethany Zarda paced the Maranatha girls with a third-place finish in the 1,600 in 5:48.43. Zarda also took fifth in the 800 in 2:34.31. She later teamed with Christa Courtney, Mallory Keith and Haley Justice to take fourth in the 3,200-meter relay in 10:59.84. Zarda, Keith, Courtney and Aly Berner finished fourth in the 1,600-meter relay in 4:35.38.
In the field events, Keegan Williams took fourth in the pole vault with a jump of 9-6, and Kim Hunt was sixth in the shot put with a throw of 29-2.