Voice carries
SMN

sophomore to

D.C.

for poetry competition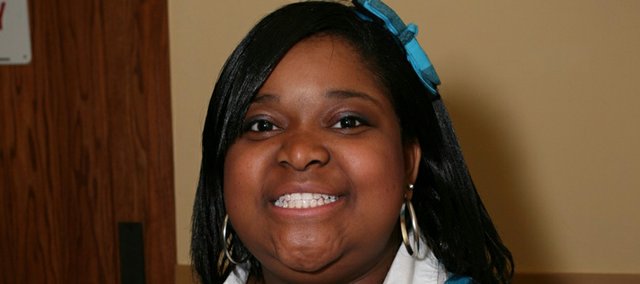 Casha Mills can captivate a room full of people.
The Shawnee Mission North sophomore did just that last month when she won first place in the Poetry Out Loud State Competition in Topeka. Now she's preparing for a trip to the national competition April 22 in Washington, D.C.
Casha's vibrant voice and pitch-perfect delivery set her apart from others in the competition.
She memorized three poems of different genres and lengths for the Poetry Out Loud school-, regional- and state-level competitions.
"I like poetry," she said. "Last year I did the Poetry Slam, so I'm drawn to it."
She chose poems she could relate to, like "Sympathy" by Paul Laurence Dunbar and "The Mother" by Gwendolyn Brooks.
Casha spent a few days perfecting her delivery prior her competition.
"It didn't take me too long to memorize the poems," she said. "For the competition you can't make movements, it's all with your voice. I was kind of nervous for the competition at school. But I was also comfortable because I knew the other people around me."
Soon, Casha will head to the nation's capital to compete.
"I'm in awe," she said of making it to nationals. "It hasn't set in that I'm going to Washington. People congratulate me, but I don't know how to take it yet."
Casha has been working on her articulation and to iron-out the small details of her poems before she heads to nationals.
"I'm really happy about this opportunity," she said. "I'm really, really excited. It's a great experience and it will help me with my acting skills and being on stage in front of people."
Errol Cade, Casha's uncle, said she's has a phenomenal year so far.

"We are so proud of her," he said. "These poems are a part of her now. She personalized them with her voice and it allows you to feel the poems."
By receiving first place in the state competition, Casha received a $200 cash prize and the all-expense paid trip to Washington. Shawnee Mission North's library received a $500 stipend to purchase poetry books.
The national winner receives a $20,000 scholarship, while the second-place winner receives $10,000 and third place receives $5,000. The next nine finalists will receive $1,000. Schools attended by the top 12 finishers will receive $500 to purchase poetry books.
The Poetry Out Loud Competition, which began in 2005, is sponsored by the Arts Endowment and the Poetry Foundation.