Tea party rally draws thousands in support of lowering taxes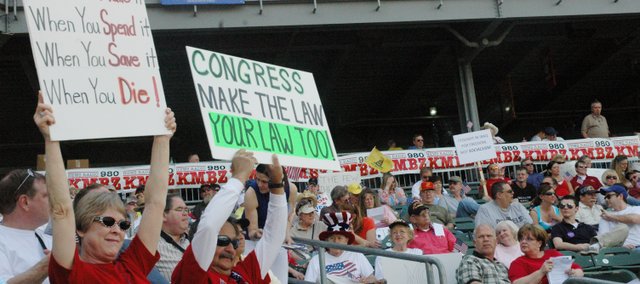 Photo Gallery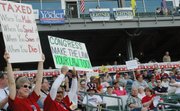 2010 tea party rally
Thousands of people attended a tea party rally Thursday, April 15, to show their frustrations with the financial situation of the federal government and their support for lowering taxes.
Kansas City, Kan. — "Freedom."
That's the only reason Larry Pettus, of Kansas City, Mo., needed for attending a tea party rally Thursday, April 15, at CommunityAmerica Ballpark in Wyandotte County.
"I'm here for freedom. I don't want to watch our country go down the tube," Pettus said. "I just hope this gets people fired up."
Pettus was one of thousands of people who attended the rally, which was sponsored by the Kansas City area tea party-related group Political Chips, to show their frustrations with the federal government and their support for lowering taxes.
The rally, which coincided with the annual deadline for filing federal income taxes, gathered people from across the area, all hoping to get their voices heard.
"We're angry," said Shawnee resident Jani Neugebauer. "We feel like all those up in Washington aren't listening to the people. They just do what they want."
Neugebauer said she expected taxes to continue to increase and attended the rally to show her support for less government involvement in individual lives.
"What better way to show you're angry then on tax day?" she said. "I hope we get people to stand up and be heard. It does make a difference."
John Magee, of Overland Park, said the idea that roughly 47 percent of Americans were not paying taxes and the other 53 percent were expected to pick up the slack brought him to the tea party rally.
"I'm tired of it. This is about taxation," Magee said about the rally.
Using a story about an ant working hard all summer to collect food for winter and then having to bail out a caterpillar who wasted the summer being lazy and eating, Magee illustrated his frustrations with people he feels take advantage of government handouts gathered from his taxes.
"If we keep giving, they will keep taking," he said.
As many rally participants wandered the ballpark concourse visiting tables set up by various related organizations, other people sat in the stands listening to government officials speak their mind about the issue.
Some of the first people up to the microphone were a group of candidates vying for the seat of Kansas' 3rd Congressional District, currently held by Democratic Rep. Dennis Moore, who is not seeking re-election.
"This current tax system is flawed," said John Rysavy. "Right now government is picking the winners and losers in society."
Rysavy said April 15 should be just another day and that those attending the rally were clearly saying that they've had enough.
Nick Jordan, who ran against Moore in 2008, said his goal was to find ways to cut taxes.
"We've got to stop the spending," he said. "We've got to stop the tax increases."
Candidate Kevin Yoder said the tax code needed to be simplified. With 70,000 pages, Yoder said the current tax system has people "over-taxed and over-burdened."
"I am hearing you loud and clear today," Yoder said, "but it's time Washington heard you."
More like this story