Cuts hit 37
SMSD

teachers
Thirty-seven teachers in Shawnee Mission USD 512 won't have their contracts renewed for the 2010-2011 school year, the latest victims of state cuts in public education funding.
Shawnee Mission USD 512 Board of Education, at its meeting Monday, approved a measure to nonrenew 37 teacher contracts for the coming year. The district is required by law to notify employees by May 1 if their contracts are being nonrenewed.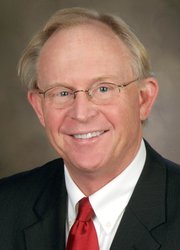 "We are saddened by this and having to do so," Gene Johnson, USD 512 superintendent, said of the nonrenewals. "We are also angered by the state because finance in our district and other districts has been so bleak the past two years."
In March, the board heard proposed cuts of $10 million from the 2010-11 school year budget. Among those cuts were 130 employees, including 70 teaching positions. Many positions were cut through attrition, however the remaining positions were nonrenewed by the board at Monday's meeting.
The 37 nonrenewed contracts add up to roughly $1.8 million when average salary and benefits are considered, district officials said.
Before the board approved the nonrenewals Monday, Johnson walked the members through the district's reduction-in-force policy.
Each of the 2,200 teachers in the district, with the exception of those who retired from a different district but chose to come work in Shawnee Mission, receives a number based on seniority, he said.
When a reduction in force is considered, the retired teachers from other districts are the first to go on the list, he said. Then, the district looks at the area of curricula where there are too many teachers for the amount of students. The teacher with the highest number, meaning they have worked in the district the least amount of years in that curricula, is added to the reduction-in-force list.
The list approved Monday hits teachers from all levels within the district, elementary, middle and high schools. Beyond the May 1 deadline, officials did not say when individual teachers would be notified about their status with the district.
Johnson said the 2010-11 school year differs from those in the past because USD 512 currently employs more teachers than will be needed.
Johnson told the board that teachers on the reduction in force list would be added to a call-back list. If a teacher retires or resigns over the summer, there is a chance a teacher on the list could be rehired by Shawnee Mission.