Mexican restaurant chain expands into western Shawnee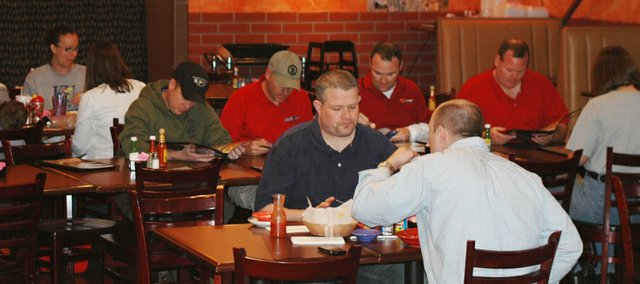 A new Shawnee restaurant is the first Kansas location for an expansive chain of restaurants in Missouri.
El Maguey, 22702 Midland Drive, opened April 14, bringing a Mexican restaurant back to the Shawnee Crossings shopping center in the location formerly occupied by Casa de Hernandez and Fiesta Flavors. El Maguey, which takes its name from the maguey plant used in the production of tequila, has 35 locations in Missouri, seven of them in Kansas City metro cities like Independence, Lee's Summit and St. Joseph.
Jorge Gomez, co-owner of the Shawnee restaurant, said Shawnee was chosen as the first location in Kansas because the population in the area was underserved.
"It's a good neighborhood, and there aren't so many good restaurants in this area," he said. "We're hoping when people try our food, we'll make them happy."
With a name inspired by an alcoholic drink, it's no surprise that the full bar specializes in drinks like mojitos and a few menu items make use of tequila.
Gomez described the food as more authentic, with more choices on the menu and bigger servings than most Mexican restaurants.
"The fajitas for one here are more like fajitas for two in other restaurants," he said.
Gomez said so far customers seemed to enjoy the grilled chicken and steaks. Some of the more popular dishes have been the Enchiladas San Jose, Quesadilla Grande and Burrito Banderas.
Gomez said people in the area have been appreciative of a new option for dining out.
"We've been very busy, and people have been leaving very happy," Gomez said. "In two weeks, we already have customers that have been here three or four times."
The restaurant offers a private room for up to 35 people. The restaurant can be contacted at 422-9900.