New yarn for students: Collections help with Cancer Action project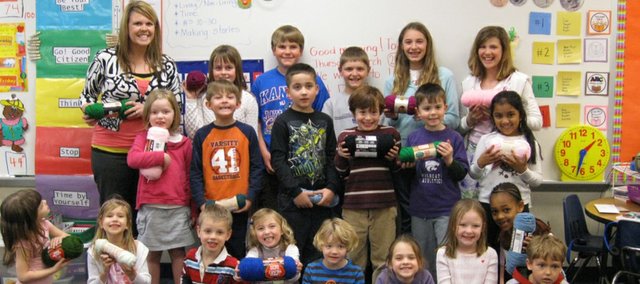 Students at Ray Marsh Elementary School are all about community service this year.
The school recently collected 426 skeins of yarn for Cancer Action, a local nonprofit.
Fourth-grader Emma Robinson got the ball rolling after talking to her neighbor, Leslie Berning, volunteer coordinator for Cancer Action's Overland Park location.
"She (Berning) brought it up to me and said it would be a good idea for the school since we do a lot of community service," Emma said. "I thought it would be a good fit, so I had to ask Ms. (Adella) Fowler and Ms. (Leesa) Yates (student council co-sponsors) if it would be something for Ray Marsh."
After getting the approval from Fowler, Emma brought the idea to the school's student council.
"I think people were excited," Emma said. "It was a nice thing that we've never done."
Fowler said community service isn't anything new at Ray Marsh.
"It's a really committed giving group of kids," she said. "They have embraced ownership. That's the focus of the building this year — community service. They are very much focused on that."
The drive lasted for three weeks and brought in almost as many skeins of yarn as there are students, Fowler said.
Berning said the drive was the first for Cancer Action at a school.
"It was a real success," she said. "It was a win-win for us. We have older volunteers that make the blankets and the price of yarn was going up. We thought it would be fun to go to an elementary to see if they could sponsor us. It wasn't an expensive fundraiser, and a lot of students have loved ones or know someone who has cancer."
Cancer Action provides an array of programs and support for local cancer patients.
The yarn will be used to make blankets for cancer patients, she said. Each new client at Cancer Action receives a blanket to use during treatments.
Berning estimated the 426 skeins could make 50 afghans.
Emma said helping in the drive was a great experience.
"I felt overjoyed by how much yarn we brought in," she said. "I felt really good about it because all the people will have warm, homemade afghans."
Berning said she's seeing more and more community service from young community members.
"I think the kids love to do things to help others," she said. "It's just the kids want to help others, and this was a good way for them to do that and I believe they thought that, too."
Emma said this won't be the end of her work with Cancer Action.
"I want to continue volunteering there and to maybe do the yarn drive again," she said.