Sampling Kansas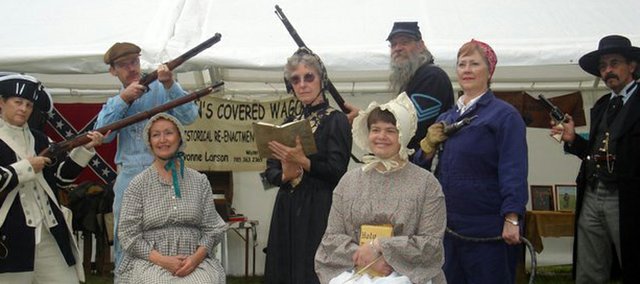 Keyta Kelly, director of the 2010-2011 Kansas Sampler Festival, offers what people can expect from this year's festival this weekend in Leavenworth.
Q: What are the dates and hours of this year's Kansas Sample Festival?
A: The Kansas Sampler Festival will kick off with an opening ceremony at 9 a.m. on Saturday. The exhibits will then open at 10 a.m. and stay open until 5 p.m. The festival will reopen from 10 a.m. to 4 p.m. Sunday.
Q: What can visitors expect from this year's Kansas Sampler Festival?
A: Visitors can expect to participate in one of the biggest and best Kansas Sampler Festivals yet. We have more than 325 vendors/exhibitors registered. There will be four full-time stages filled with fantastic Kansas entertainers, and there will be 18 large tents filled with everything from artists to authors to Kansas products. Expect to have a good time while learning about what there is to see, do, hear, buy, taste and learn in Kansas.
Q: Where can visitors park and how can they get to the festival grounds?
A: There will be visitor parking located on the Veterans Affairs Medical Center grounds, the K-Mart parking lot, the Central Bag Company parking lot (formerly Hallmark Select Products), and the parking lot behind the old Sears at the Leavenworth Plaza. There will be plenty of signs directing people to parking. Once parked, folks will be able to take a shuttle from the parking lot to the festival entrance.
Q: How much does it cost to get into the festival?
A: The cost is $5 for an adult, $3 for children age 3-12, and under 3 is free. Or you can purchase a weekend pass for $8 adult, $5 child.
Q: What are some must-see booths and entertainment?
A: I hate to narrow it down because every booth at the festival has something interesting. But certainly don't miss the Kansas Products tent. You'll be amazed at all the wonderful, unique products made in Kansas; plus they always have samples. On Sunday, Russ Ehart from McLouth will be demonstrating his chainsaw carving. This, in my opinion, is a must see. If you want to see something quirky, stop by the Longford Water Company booth to see what a water bottle looks like before it is inflated.