SMEF

delivers grants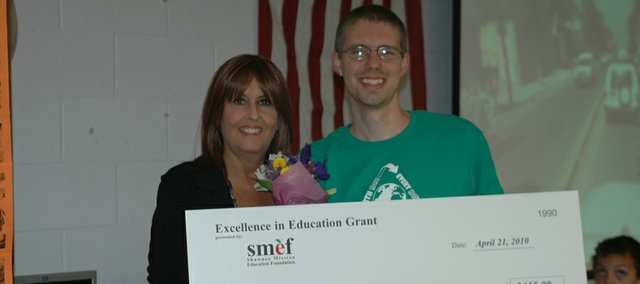 Lucas Shivers' sixth-grade class at Bluejacket-Flint elementary is full of budding directors, writers and film moguls.
Just this school year, the class has produced films ranging from narratives to community service announcements.
Filming, editing and viewing their work just got a bit easier with the help of a Shawnee Mission Education Foundation grant.
Shivers last week received one of 11 Excellence in Education grant awards from the Shawnee Mission Education Foundation.

The $2,415 grant would go toward purchasing more video cameras and updated computer software for editing, Shivers said.
"This was a project we wanted to better incorporate into our curriculum but didn't have the funds necessary," he said. "This opportunity allowed us the resources to meet our goals and incorporate technology into the classroom."
Sixth-graders Wyatt Gunter and Kayla Dailey said they enjoyed making videos, commercials and other projects in Shivers' class.
"We made videos about food and toy drives that the school is holding," Wyatt said. "We make the scripts first, then we go record a few times to get the right shots."
Kayla said the videos were something in which the entire school could be involved.
"We record school activities and tell the school what they can do," she said.
Shivers said communication is vital in the classroom.
"It's important that we keep up with trends in the current generation," he said. "With these tools we can do that better."
The Shawnee Mission Education Foundation surprised educators with grants on Wednesday and Friday.
The grants, totaling more than $27,000 this year, provide funding for challenging and creative teaching projects.
Projects, ranging from Shivers' "Live from Bluejacket-Flint" to purchasing eReaders for reluctant readers, will be implemented during the 2010-11 school year.
Recipients of Shawnee Mission Education Foundation grants include:
Broken Arrow Elementary School
• Grant recipient Courtney Moffitt for "Robotics" WE can DO it, too!"
Antioch Middle School
• Grant recipient Barbara Novak for "eReaders Support Reluctant Readers"
East Antioch Elementary School
• Grant recipient Mary Fulbright for "Developing Flexible Thinking in Math: Decomposing and Recomposing Numbers
Crestview Elementary School
• Grant recipient Ada Wallace for "The Missing Link: Enhancing the Connection Between MTSS, PBS, Ruby Payne: Conscious Discipline"
Santa Fe Trail Elementary School
• Grant recipient Jennie Reck for "The Real Sense of Science"
Shawnee Mission North High School
• Grant recipients Sherri Crawford, Sally Jones, Rosanna Lawler and Becky Tate for "Digital Storytelling Project"
Bonjour Elementary School
• Grant recipient Marilyn Lake for "Drums, Movement and Chimes – Oh My!"
• Grant recipients Alejandro Schlagel and PBS Committee for "Supporting Behavior the Bronco Way"
Shawnee Mission Instructional Support Center
• Grant recipients Mendy Ruthrauff, Amy Quinlen and Lisa Bergeson for "Use of Editing to Enhance and Expedite Video Modeling for Students with Autism Spectrum Disorder"
More like this story