Volunteers take on seven projects for Rebuilding Together Shawnee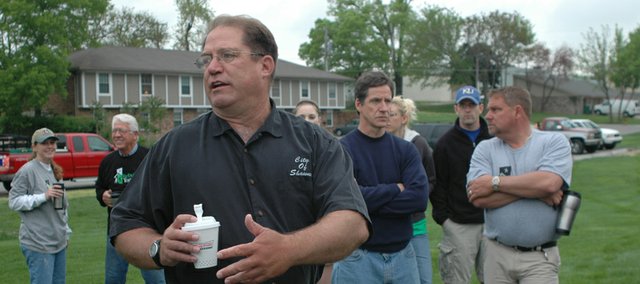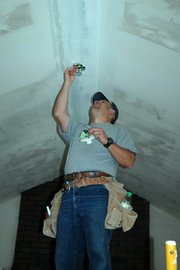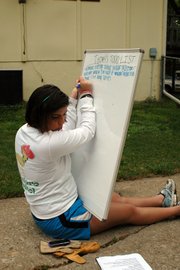 More than 200 volunteers Saturday proved a 3-year-old organization is still going strong to improve the lives of Shawnee residents.
The volunteers came out for National Rebuilding Day, Rebuilding Together Shawnee's third year of helping homeowners in need with home repairs to keep them safe, dry and warm. Volunteer teams took on seven different projects in the city, one a massive renovation that will continue over the next several weeks.
At an early-morning meeting with volunteers before they moved on to their projects, Shawnee Mayor Jeff Meyers noted the impact the organization has already had on the city.
"I've had people tell me it's life-changing, and you don't hear that every day," Meyers said.
Volunteer teams for Saturday's projects included Shawnee United Methodist Church, Bayer Animal Healthcare, Honeywell, First Baptist Church of Shawnee, St. Joseph Catholic Church, School Administrators Association - Shawnee Mission and the Shawnee Tomorrow leadership class from the Shawnee Chamber of Commerce.
Big project helps family
Once again this year, Hank Bednar, who owns Bednar Interiors Inc., helmed the "big" project for the day – an interior remodel, as well as exterior repairs, to the home of Cathy Miller.
Miller is teacher at Olathe South High School and a single mother of four. Since separating from her husband two years ago, Miller hasn't been able to finance unfinished projects and other home repairs while supporting her four daughters and handling medical bills associated with her daughter Christina's hydrocephalus.
Christina, a senior at St. Thomas Aquinas, recently had her 32nd surgery to cope with the condition, and while it looks like life is beginning to return to normal for her, medical bills have mounted to several thousand dollars.
The family has received support from the community in other ways to help out with medical bills, recently with a fundraiser at Bates City BBQ. A family friend familiar with their circumstances, Bednar encouraged the Miller family to apply through Rebuilding Together so they could get some help with their house as well.
"He came to us and said, 'You know, I think you might qualify for this program I'm a part of in Shawnee,'" Miller said.
The work on the Miller's house is so extensive it actually began a week ago with some exterior work and will continue in the weekends to come. On the long list of repairs: new siding, new carpet, an all-new kitchen and bathrooms, a basement remodel to create better bedrooms, and new garage doors.
"We thought it was just going to be fixing the plumbing in both bathrooms, and then it took on a life of its own," Miller said.
Temporary quarters
All of this means Miller and her daughters will not be able to live in their home until repairs are complete. Miller said she'd planned to stay with her mother in Paola, but luckily, Bednar was even able to find them house to stay in rent-free through friends at church to keep them closer to their schools and work.
"That was just a little miracle in the working, and it's only two and a half miles away, which is much easier than 40 miles away," Miller said.
Bednar did a lot of the legwork to get items so the Millers' renovation could be as big as he dreamed it, finding donated counter tops, sinks and toilets with the help of fellow members of the National Association of the Remodeling Industry.
"I tell the families I can't promise anything, but we're here to help out our community and help out the people that need help the most," he said. "… We take it sometimes to the extreme because with our St. Joe group and NARI contractors, there's a lot we can do."
Bednar said the skilled volunteers with St. Joseph's Rebuilding Together team are a big part of taking on such massive projects.
"St. Joe is just a unique family," he said. "Everyone has big hearts and everybody is willing to help out in a big way, because they know that everyone can have a hiccough in life."
Big impact projects
Other projects Saturday may have had a smaller scale, but they were sure to make a big impact on the lives of the homeowners.
The Shawnee Tomorrow group had a good time interacting with their homeowner, an 83-year-old woman who needs a cane or walker to get around but still lives on her own. The team raised funds to get her a washer and dryer to put in her bedroom in addition to installing items like safety rails.
"I think it saved her life, because her washer and dryer are in the basement right now, and she's going down a narrow, rickety stairwell into a cement basement to do her laundry," Megan Hardwick, house captain, said.
Heroes at Home
Volunteers with Shawnee United Methodist Church helped with one of two projects funded through a $10,000 Sears "Heroes at Home" grant awarded to Rebuilding Together Shawnee earlier this month. The grant benefits repairs for homes of military veterans, and the team was putting in new exterior doors, a new garage door, safety rails and a new driveway in at their project home.
This was the third year for Shawnee United Methodist to work on a house, and Lynda Hurt, house captain, and team member Jim Hammons said it was always easy to gather volunteers for Rebuilding Together projects.
"The members of our church are very into 'close to home' projects, and this serves that very well," Hammons said. "Everybody in the church feels like this is a very worthwhile project."
Because of the rain Saturday, some Rebuilding Together projects will continue in the next few weekends.