Lyric Opera camp opens minds of youth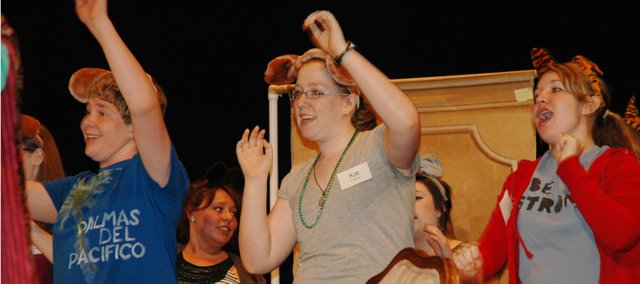 For the past four years, Kat Kasckow has spent two weeks of her summer vacation singing opera.
The Bonner Springs resident and St. James Academy sophomore got involved with the Lyric Opera summer camp in Kansas City, Mo., when her mom learned about the camp from its director who was standing in as director of a church choir.
"My mom just thought I'd like it so she signed me up," Kasckow said.
Her mother's instincts were right. Kasckow said in the four years she participated in the two-week camp, her singing has improved drastically.
On Thursday, the final rehearsal day of the camp, Kasckow sat among 65 of her fellow campers as they practiced an Icelandic lullaby they would sing in a performance for family and friends the next day.
As the group, which includes children ranging in age from 9 to 18, began to sing, a strong sound filled the room. The rich voices were a surprising contrast from the young mouths in which they came.
"I like studying opera and singing all the different songs," Kasckow said.
The culmination of the camp comes when the group performs various chorus songs as well as scenes from a show, which this year will be "Beauty and the Beast." The campers sing the chorus parts of the show while grown Lyric Opera performers perform the lead roles.
"I like how they dress, I think it's really cool," Kasckow said of the glamour found in opera. "I really like the make-up and hair and singing is really beautiful."
At the end of the camp, the campers are given the opportunity to try out for the children's chorus in an upcoming Lyric Opera show. While Kasckow didn't plan to try out this year, she was cast in the opera's "Charlotte's Web" performance last year.
"I love opera and I love the music, but I think I want to work on school this year," Kasckow said of her decision not to try out.
As a student with many talents, Kasckow said she'll be taking a drawing course instead of choir this year as a way to explore different creative outlets.
Shannon Sandberg, a representative of the Lyric Opera, said the organization has worked hard to build its community outreach and youth education program. In addition to the annual summer camp, Sandberg said the opera also has a spring break session and takes its program into area schools for students to learn about.
"It's a way to give back to the community," Sandberg said. "We're a non-profit and the community supports us with their donations and ticket sales so we want to support them."
Sandberg said the opera's education program also provides youths across the Kansas City metro area exposure to an art form they might have originally missed out on.
"It's so important because most kids are not exposed to opera," she said. "It's a way for different people to learn about an art form they may have never learned about."