Museums' futures in city tied to expansion, funds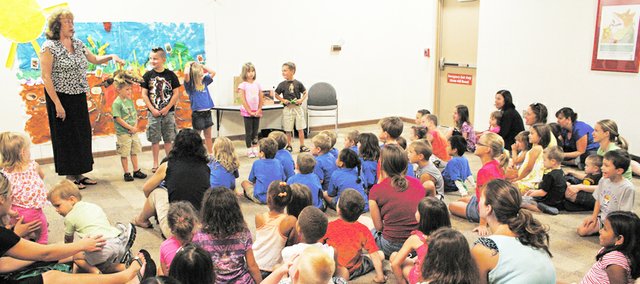 Editor's note: This is part one of a two-part story.
Shawnee's museums are bursting at the seams, and if city boosters want to keep them here, someone needs to step up with places for them to grow into. And, while they're at it, they should get out their checkbooks.
That is the conclusion drawn from a series of interviews with officials of the Johnson County Museum, the Wonderscope Children's Museum, the city, the county and the Shawnee Area Chamber of Commerce.
Both the Johnson County Museum and Wonderscope have similar problems — chiefly, inadequate, outdated buildings that were designed to serve as school buildings, not as museums. Both also are desperate for more space — space to grow, and space that they need to match their grand plans for the future.
The Johnson County Museum occupies 20,000 square feet of space, chiefly in the former Greenwood School building at 6305 Lackman Rd., but that figure also includes the All-Electric House, a former Prairie Village residence, on the site, and also some warehouse space in southern Johnson County. Most of the main building is not handicapped-accessible, and floods last year forced the museum staff to move out of its offices in the basement; as a temporary solution, three office trailers will be moved onto the site next year.
But the museum's strategic plan, adopted in 2006 after an exhaustive study, calls for a 70,000-square-foot facility with a large auditorium and room for additional exhibits, encompassing a center for the study of suburban development.
Wonderscope Children's Museum, located in the former Flint Elementary School building at 5700 King since 1997, also has plans that cannot be contained in the current structure, where the second story is not used because of accessibility problems and almost a third of the first floor is taken up with a large central hallway.
Wonderscope is about a year into its master plan process initiated in the summer of 2007, said executive director Lauranne Hess. Officials have moved beyond the initial planning stage, into testing concepts that will form the core of the new, 55,000-square-foot facility they hope to inhabit as soon as a donor comes forward. The planning process, drawing upon the experience of experts in the museum field and elementary school educators, looked first at the educational experiences that would have the most meaning to children, then designed the proposed exhibits for the new museum with those concepts in mind.
No easy choices
Officials of the city, the county and the chamber of commerce agree they would like to see the museums stay in Shawnee. But, in a time of recession, no one foresees any combination of circumstances that would make available sufficient public money or land to answer the museums' needs and desires.
The city has to do all it can just to maintain basic services and keep its sewers flowing and its streets paved, said City Manager Carol Gonzales.
"Obviously, we would hate to see either of them move from Shawnee," she said. "I think they're both wonderful fits for Shawnee.
"I think a family-focused community is an ideal fit for a children's museum," Gonzales continued. "It just ties in so well with who Shawnee is, in terms of being about kids and families."
Three years ago, when the two museums first began talking about changes in their mission that might lead to new venues, former chamber chairman and current Johnson County Commissioner Jim Allen — who served as mayor of Shawnee from 1993 to 2004 — brought together a task force composed of chamber, city and economic development officials to study the issue. The task force invited representatives of both museums to come and share their plans and needs. Linda Leeper, chamber president, said those sessions have continued intermittently since then, the last time being two months ago. At one point, the city funded a study of how to keep Wonderscope in Shawnee.
"The conclusion of the task force was that obviously we didn't want to lose them," Leeper said. "But on the other hand, the city wasn't in a position to purchase land or a building for either one of the museums."
In an interview in his Shawnee insurance office, Allen said he's heard estimates ranging from $5 million to $10 million to build a new county museum. It could come in at the low end of that range if the museum could partner with another public entity, such as the Johnson County Library, to share facilities. One possibility that's been mentioned is a new library on the Lenexa City Center site at 87th Street and Renner Boulevard.
But, whatever improvements are finally approved, the county's current financial picture guarantees they will be a long time coming, Allen said. As an example, the county recently authorized the purchase of 2.14 acres of land for a new Monticello library at 22435 W. 66th St. in Shawnee. Construction of that building is tentatively slated to begin in 2015.
County officials are more or less waiting on the state to solve its financial problems, Allen said. Until the Kansas economy recovers, "I just don't know that you're going to see any major building projects for the county," he said.
When and if that happens, the county has other needs that might be paramount — not the least of which would be either to expand the Courthouse, an aging facility with structural problems of its own, or build a new one. County commissioners recently approved adding more judges, but there's little room for them in the current Courthouse.
And the county has other needs as well — roads and the like.
"All those issues are going to need to be addressed," Allen said.
"There's no sentiment right now to raise any taxes," he noted. "We're cutting back."
As the state just raised sales taxes July 1, that avenue likely will be closed for the county and its cities for the near future.
A watershed event
Workers in the Johnson County Museum's offices had struggled with the seepage and other water problems for years, said Mindi Love, the museum director, but a storm that hit in April 2009 was the proverbial straw that broke the camel's back.
All of the interior walls in the basement, and the false floors built in an attempt to get items off the concrete floor, had to be gutted. Besides just the water damage, there were serious problems with mold in some places. No artifacts or items of historical value were damaged, but that was not the case with the offices, all of which, including the director's, had to be relocated.
The basement is now a dank-smelling cellar with stacks of building materials here and there as workers toil away in corners of the museum or, in the case of three members of the collections staff, at a museum warehouse at 159th and U.S. 169, near Spring Hill.
As an interim solution, county officials have approved moving in three trailers currently housing assessment staff at the Johnson County Juvenile Detention Center in Olathe. Costs associated with moving the trailers and refitting them are included in the 2011 county budget.
Museum officials plan to place the trailers, which will bring about 3,000 square feet of much-needed space, along 63rd Street at the north edge of the museum property. That's the only level spot on the property with enough space for them, Love said.
But Love stressed that placing the trailers there is only a temporary, interim solution. What the museum really needs is a new building, she said. She reels off a list of shortcomings:
• The building has no elevator. "This building is not ADA (Americans with Disabilities Act) accessible," she said. "In case of a tornado we could not get handicapped visitors to a safe place."
• The building has insufficient program space. "We have one program space," she said. That space is used for staff meetings, for board meetings, for other public programs.
• There's not enough space for new or added exhibits. "We have very limited space for exhibitions," she said. Right now, there are two cramped spaces: one houses the museum's "Seeking the Good Life" exhibit, which traces the growth of Johnson County, and the other houses the popular "Kidscape" hands-on exhibit for children 3 through 9. "We would like to have more than one exhibit at a time," Love said.
(As an aside, she noted that it would be nice to be able to take children through the "Seeking the Good Life" exhibit, but because the materials are strung out in several rooms, there's not enough space to accommodate a large group of children. The current exhibit is arranged more for single visitors or small groups. "When you get 60 sixth-graders in here at one time it's very limited," she said.)
• In addition to the limits on space inside the museum, there's not enough parking. Visitors to popular programs sometimes have to leave their vehicles at the park across the street, Love said. "We routinely sell out our children's programs that come, and we turn people away."
• There's not enough room for the staff, or for volunteers, which are crucial to running the museum effectively. "If we wanted to bring on additional staffing we would not have any space to office them," she said. The same is true of additional volunteers. "We don't have room for them, and we have plenty of work for them to do."
Although the museum has identified the need for a new building, staff members haven't looked at any particular sites yet, Love said. A suitable location would have good visibility – along Interstate 35 would be ideal, she said. Nevertheless, they haven't gone looking – yet.
"In terms of getting down to specific sites, that's not something we've done yet," Love said.
For a new museum, Love said planners would like to have about 70,000 square feet. The museum plans to move the All-Electric House — a 1950s suburban home moved in years ago from Prairie Village — to the new site, Love said.
With sufficient space it would be possible to move the house inside the new museum, she said. This would solve several problems. It would make maintenance easier, for one, if the house could be shielded from the elements. Also, it would be easier to handle scheduling. It is now not possible to keep the house open the same hours as the museum, and it frequently happens that museum visitors are unable to view the house.
Museum officials also would like to have room to expand in future years, Love said.
As to the size of the site, Love said five to seven acres would be ideal.
Existing buildings might be acceptable, she indicated.
"We would look at any opportunity," she said. "We're not necessarily looking for vacant land somewhere."
And there's another factor: "Now that we have the White Haven sign, we want someplace we can exhibit it," she said. (The museum purchased the sign, a Johnson County icon that formerly stood at the motel of the same name on Metcalf Avenue, at an auction July 2.) The ceiling at the current site is too low, she explained.
In the interim, the museum will receive a $24,000 grant from the Johnson County Heritage Trust Fund to renovate space in the 900-square-foot gallery, which is now used to introduce the "Seeking the Good Life" exhibit.
The planning process that led to the development of a new master plan that would focus on the development of the suburb in postwar America started in 2005. The new museum would include ample parking, more room for exhibits, banquet facilities, multilingual multimedia exhibits, the All-Electric House, a cafe and a 750-seat auditorium, in addition to a museum store and the Center for Suburban Studies, a noncirculating research library devoted to the post-World War II suburbanization of the United States.
Not much scholastic research has been done on suburban development, Love said. The two exceptions are Hofstra University in New York and the University of California-Riverside in the Golden State, but there is apparently nothing in the Midwest, Love said.
"We talked a lot about taking this story to a broader level," Love said.
Although the state of the economy is a concern, museum officials nevertheless hope to move ahead.
"Our goal would be to have a building up and functioning in 2016," she said.
Love said the museum hopes to do this in partnership with the county, under an arrangement in which the county would furnish the building and the Friends of the Museum would raise funds for collections and exhibits and even some staff. (The Friends already fund two part-time education staff members.)
Although no site has been found, plans apparently are moving. Acquisition of the property, wherever it turns out to be located, is in the county's five-year plan, Love said. Land acquisition is scheduled for 2014.
Next week: Wonderscope Children's Museum is waiting – waiting for a donor to come forward with space and funds for a new museum that would draw people from throughout the region.