Bonner detective on mission to curtail child abuse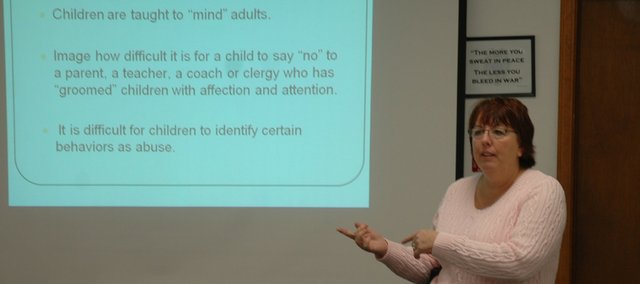 Vickie Fogarty knows her ability to apprehend those who molest and abuse children would be much harder if not for Sunflower House.
The detective with the Bonner Springs Police Department has been investigating child abuse cases for about 15 years, and she knows that with Sunflower House, a child abuse prevention center serving Wyandotte and Johnson counties, children have a safe place to disclose stories they might otherwise hide due to fear and embarrassment.
"If Sunflower House weren't here, I don't know how successful our job would be," she said.
Fogarty's work with the nonprofit organization has been so extensive that she was recognized as its child advocate of the year in 2008 and recently recorded a promotional video that Sunflower House will use in the coming year to explain its mission. Now, she is taking an even more active role to spread awareness and ensure child sexual abuse investigations are properly handled by local law enforcement agencies.
Working with Erin Miller Weiss, child assessment director for Sunflower House, Fogarty has created a training program that she has started presenting to officers in Bonner Springs and Kansas City, Kan. The program helps police officers understand the services Sunflower House provides and also helps them learn the best methods to use when dealing with a possible sexual abuse victim.
"The detectives knew that they should go to Sunflower House, but it was an unknown to a lot of sergeants and officers," Michelle Herman, president and CEO of Sunflower House, said. "The goal is to help them understand some of the protocols and how that leads to prosecution."
In the class, Fogarty is able to teach proper methods of investigating child abuse through sharing her own stories, like the story of "Suzy," a young Bonner Springs girl who was being sexually abused by her stepfather.
She tells officers about the prevalence of child abuse, that one in four girls and one in six boys will be sexually abused before they turn 17. And in nearly 70 percent of all reported sexual assaults, the victim is under 17.
In 90 percent of sexual abuse cases, the victim knows and trusts the abuser — and officers should be aware that though other adults may not believe the accused person is capable of abuse, it could be anyone.
"It's not like when we were growing up, the molester was that guy in the trench coat with the long, stringy hair, hiding behind a tree," Fogarty said. "The molester is someone you know and trust; you do not perceive the danger. That is why they are successful."
Officials estimate, however, that only about 30 percent of abuse is reported, so Fogarty teaches officers why children hide their abuse. They are taught to mind adults and may not recognize they are being abused at first.
"It's very difficult for a child to say no … it's very hard for a child to tell an adult figure 'Don't do that,'" she said. "And it's very hard for a child to identify some behaviors as abuse."
By the time a child is really aware they are being hurt, it is too hard for children to try to report it.
"How do they tell someone 'I need help,' and how are we going to believe that the coach, the aunt, the uncle, the friend, the grandma, the grandpa, the cop, the teacher has violated them?" Fogarty said. "It's very hard. Most victims never disclose the abuse."
She said 80 percent of victims will deny their abuse if asked because it is embarrassing to disclose details, or they are scared of upsetting family or getting in trouble. And 40 percent of victims will recant their allegations of abuse because of their fears. But only 1 to 4 percent of abuse allegations are fabricated.
Fogarty shares signs that children are lying and signs that true victims are hiding their abuse. She coaches officers on phrases to avoid — phrases that might frighten a child out of disclosing, making them shut down and continue to hide the abuse.
Weiss said this is why Sunflower House's service is so important. It gives the child a safe environment to tell their story and to only have to tell it once, rather than disclose it repeatedly to doctors, police officers and lawyers.
"We find that when a child is repeatedly questioned, they shut down," she said. "… We're really doing a disservice to those kids when they are repeatedly questioned."
Weiss instructs officers on other facts that will help Sunflower House: how to make note of the child's words and terminology, their emotional state and behaviors and what questions to ask the family to get details Sunflower House will need. She explains when it is important to get a child to a hospital for a physical exam immediately and when it is better to just bring them to Sunflower House, which also provides exams.
The most important thing is to believe the child's story, Fogarty and Weiss say, because Sunflower House would rather interview a child to find they are lying than to take a chance that abuse would go unreported.
"Three things a kid wants to hear: I believe you, I love you and I'll protect you," Fogarty said. "They don't want to be questioned. If a child says 'Someone I know and love is touching me, and I don't like it,' believe it … they very seldom lie."
Major Vince Davenport, formerly the director of police training for the Kansas City, Kan., Police Department and currently the commander of the west patrol division, arranged for Fogarty and Weiss to begin presenting the training program this year.
Officers are required to receive 40 hours of training annually to maintain state certification, and Davenport said the Sunflower House program covered an important topic.
"I saw the value right away to our department and our officers, so I asked if they would be able to present it to all officers citywide," he said.
While officers receive training for child sexual abuse cases when they are recruited, the continuing training helps reinforce important issues, and Davenport was already familiar with Fogarty's work because her husband also works for the department.
"I was sold on the program not only because it was worthwhile training," he said. "Really I was sold on Vickie Fogarty and her enthusiasm and her passion for this topic. It really had an impact on me, and I could hardly turn that down."