Shawnee Chamber of Commerce names top volunteers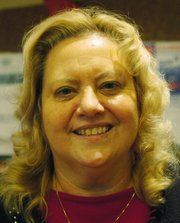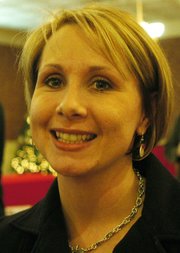 The Shawnee Chamber of Commerce recognized its top volunteers this week at its annual holiday and volunteer appreciation luncheon Wednesday.
Ambassador of the Year went to Karen Boyd of the Johnson County Christmas Bureau.
Boyd, the bureau's representative to the chamber, works nearly full time as a volunteer for the bureau. She previously worked for Home Town Buffet and Everyday Gourmet in Shawnee.
Chamber officials said Boyd's strengths involve interacting with businesses, schools and nonprofit organizations, adding that she steps up when needed "for any project large or small."
Boyd, who lives in Lenexa, has been the Johnson County Christmas Bureau's toy chairwoman for the past 19 years and participated in Junior Achievement and Read Across America. Her chamber involvement includes working on multiple committees and securing presenters for the Wednesday morning networking group.
Boyd said she juggles her load by taking one day at a time, although the things she does for others don't feel like a job.
"I like helping people," Boyd said. "It's one of my big joys in life."
The Chamber Star Award went to Danielle Browning of Kansas City Power & Light.
The chamber established the award in 2007 to recognize a chamber volunteer who "shines with extraordinary measures of service and commitment" to the chamber.
Browning, who lives in Olathe, has served on numerous chamber committees in addition to her full-time job as an operations analyst for KCP&L. She has two sons and is nearing completion of a master's degree in communications studies from the University of Kansas.
Chamber Chairman of the Board Tim Harmon also recognized the following members during the luncheon:
Tom Langhofer of Rodrock Development, Shawnee Economic Development Council chairman; Ann Zimmerman of Zimmerman Consulting, Shawnee Convention and Visitors Bureau chairwoman; Justin Nichols of Lathrop & Gage LLP, Governmental Affairs Committee chairman;
Chris Gorup of Shawnee Mission Ford, Ambassadors chairman; Browning and JonAnn Cavanaugh of M&I Bank, Business Expo Committee chairwomen; Robin Frazee of Metcalf Bank, Member Service Team leader; John Wills of State Farm Insurance, Golf Committee chairman; Brad Gardner of Bank Midwest, Chairman's Club chairman;
Dawn Kuhn of Bank Midwest, and a Shawnee City Council member, 2011 Total Resource Campaign chairwoman; Dana Blubaugh of Pittsburg State University ad MeLissa Trujillo of CoreFirst Bank & Trust, Shawnee Tomorrow Steering Committee chairwomen; and Gorup and Jody Adams of JRA Baskets, Annual Dinner Committee co-chairs.