Mize students Just Like Me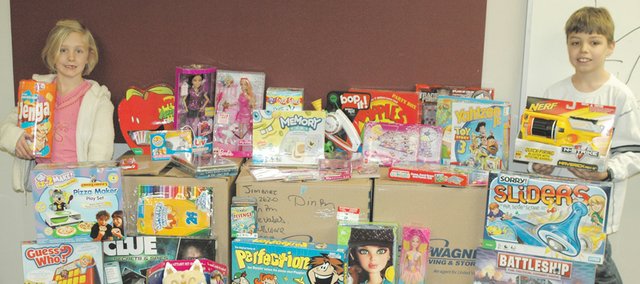 For many children the holidays usher in a new round of toys. For others, the holidays don't bring such good fortune.
The students at Mize Elementary School used their holiday spirit to collect toys and board games for their less fortunate counterparts in Johnson County.
From Nov. 26 through Dec. 3, students participated in the Just Like Me Toy and Board Game Drive for the Johnson County Christmas Bureau.
In all, students and staff collected 125 board games and toys during the drive, said Rebecca Swain, drive organizer.
"They were really excited to get the items," Swain said after dropping off the gifts. "I think the entire drive went well."
Zach Deibert, fifth-grader, brought in a toy on Dec. 3.
"We had a drawer yesterday in class that said to put someone else first," he said of a classroom character lesson. "So I brought in something today. I brought a Lego set and my brother brought in a 10-in-1 game."
Swain said the school has participated in similar drives for many years but that supporting the Johnson County Christmas Bureau was new this year.
"Normally, we give to the De Soto Multi Service Center, but they aren't able to sponsor families this year. So we went to the Johnson County Christmas Bureau because they picked up the families that De Soto couldn't help," she said.
The school incorporates the Just Like Me aspect of the drive each year to help students relate to the drive.
"We want to have the kids be aware and have them be involved and know where the toys are going," Swain said.
It was a lesson Zach understood.
"All the toys and games go to people that don't have the same things that we might have," he said.
Reagan Ames, first-grader, donated a few games to the drive.
"It felt good to help people,' she said. "I think they'll have fun with the toys and games."
Swain said she hopes that students take the lesson of helping others to heart.
"I really hope they learn awareness," she said. "I hope they understand that there are kids out there that aren't as fortunate as they are to get presents, there are some that don't get anything."
More like this story