BJF

student shines in 'Nutcracker' ballet
Sixth-grader spreads holiday cheer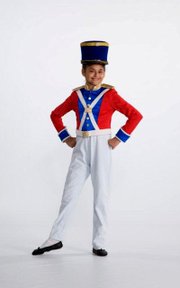 The holiday season brings decorations, festive music and cherished stories. One Bluejacket-Flint Elementary School sixth-grader is helping spread the holiday cheer on a big stage.
Teresa Pedroza plays a toy soldier in the Kansas City Ballet's rendition of "The Nutcracker," which runs through this week.
Teresa has only been practicing ballet for a short time but she's progressed quickly in the theater.
"'The Nutcracker' is my first performance," she said. "It's really exciting to learn how everything works on stage, it's really interesting."
Teresa began her dancing career taking ballroom lessons last year. This year, she made the jump to ballet. She's currently in level 2 classes at the Kansas City Ballet School.
"I always liked dancing," she said. "At one point I wanted to be an actress, but now I want to be a ballerina."
When the Ballet put out word it would be holding auditions for "The Nutcracker," Teresa was excited.
"I decided I wanted to try, then I wasn't so sure," she said of the bit of anxiety she had. "My mom kept persuading me, and I got in. I'm really happy she kept persuading me."
The small moment of hesitation was all Teresa has felt since joining the production.
"I don't really get stage fright," she said. "Rehearsals have been really fun. We had a performance for friends and family, and that really helps get people ready to perform in front of the audiences. I'm normally just excited to be up there."
Teresa said rehearsals had been fun and that it's been relatively easy to memorize her role.
"I think it's pretty easy," she said. "Some people have a little trouble with the new steps because you don't see them coming."
Picking one favorite part is difficult for Teresa.
"I have a lot of favorite parts," she said. "At one point in the ballet there's a tree and it grows and makes it look like Clara is shrinking. I really like the battle scene and the dancing and all the costumes."
Teresa already looks forward to her next chance to hit the stage.
"I just tried out for 'Tom Sawyer' with the Ballet," she said. "I definitely want to keep dancing. It makes me smile and stuff."
"The Nutcracker" continues its run with a variety of show times until Friday, Christmas Eve, at the Music Hall, 301 W. 13th St. in downtown Kansas City, Mo. For show schedules and ticket information visit www.kcballet.org.