Church reassembles its young 'angels' choir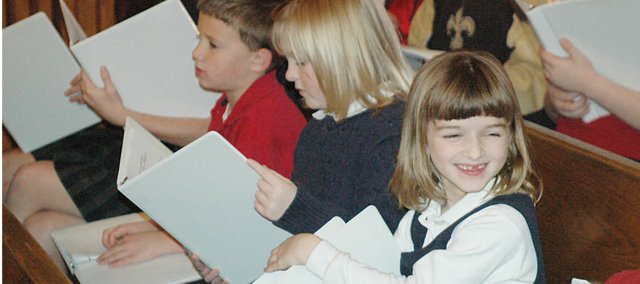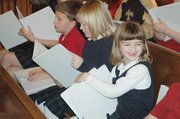 The Awesome Angels Choir has been revived at St. Joseph Catholic Church.
The youth choir had been missing in action for about five years, when Barbara Leydon was hired as the parish director of music earlier this year.
Leydon, who also directs the church's Hosanna group, took charge of creating a youth choir after Father Mike Hawkin, St. Joseph's pastor, suggested the idea.
"I was in the parish when Father Mike hired me to be the first director of music for the parish," she said. "One thing I wanted to do was get the youth choir back."
Young parishioners, ages 5 to 17, were asked to participate in the choir. In all, 49 children volunteered to sing with the Awesome Angels, Leydon said.
"I was going to be happy if we had 20 children interested," Leydon said. "I was really overwhelmed and pleased to have such a turnout. It usually takes a big punch of the ball to get things rolling. I feel like we've taken off from the start."
The group sings at one Mass per month, including this Friday's 6 p.m. Christmas Eve service.
Rehearsals are every Tuesday after school. The children come from all over the community, from St. Joseph's School and public schools, Leydon said.
"They are good singers," Leydon said. "The older students really sing well, we've teamed up the sixth-, seventh- and eighth-graders with a younger buddy to help them learn the songs. It's nice to have them all in the same group."
One of the focuses of the choir is training for church liturgy and leading the congregation.
Leydon said since the first performance in October, students have seemed to really enjoy the program.
"It's a challenge for kindergarten and first-grade students to maintain through the entire mass, but they are doing very well," she said. "Our next test will be having the holiday break, then we'll start back up for the rest of the year."
Leydon said the Christmas Eve mass will be true showcase of the choir's talents.
"You need extra music for that service," she said. "Historically, Christmas Eve mass is very crowded. If you don't come at least a half hour early you won't get a place to sit. So we try to provide music during that time when parishioners are waiting."
Leydon said the children would begin singing around 5:30 p.m. for Friday's service.
More like this story