Programming is hands-on at robotics camp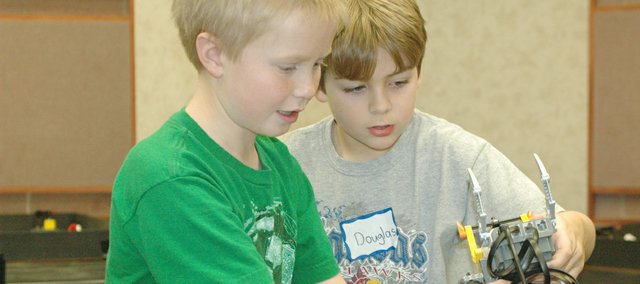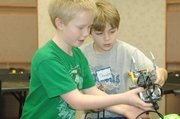 Area students got a crash course in robotics on Monday during the Shawnee Parks and Recreation introduction to robotics camp.
This year the department teamed with the Academy of Arts and Science to offer introductory and advanced robotics camps during winter break.
On Monday, 17 students participated in the eight-hour introduction course taught by Karen Wartko.
"This is the beginning," she said. "This morning they built a simple robot, this afternoon they will program it and complete a series of challenges."
Eric Ely, programming recreation specialist for Shawnee, said the city offered a robotics class in the past but that once he found out a local resident was involved he jumped at the chance to partner.
"It's a more non-traditional class," he said. "The class reaches out to kids that don't typically want to sign up for sports, and those that do, it gives another option."
Ely said classes such as robotics were increasingly popular for kids.
"We're really pleased with the enrollment for this winter," he said.
The city also offered a drama class and a babysitting course for students, as well as advanced robotics on Tuesday.
Gentry Gardner, second-grader at Benninghoven Elementary School, said it was the first robotics class he's been a part of.
"I like to build things," he said. "I build things at home all the time."
Gentry said he usually builds rocket ships at home. For class, he was looking forward to programming his masterpieces.
Tom Deane, sixth-grader from Sacred Heart School, looked forward to his group's robot completing challenges.
"I haven't done anything like this before, but I'm really excited," he said. "The teachers are great, too."
Tom said he has two tubs full of Legos at his house for his building pleasure.
"I'm really looking forward to programming the robot," he said.
Ely said he hopes the partnership with Academy of Arts and Science continues. The department has already planned a robotics course over spring break for those that couldn't attend this week.
"It keeps kids mentally and physically active," he said. "I know kids are traveling a lot right now for the holidays, but they don't do that so much in the spring."
Tom said he hopes other kids take the classes in the future.
"They should take the class to learn a lot and have fun," he said.
Ely said students were excited at the prospects of building their own robots.
"It's a great class, the kids are very much involved," he said. "The parents are even excited when dropping them off for the class."