Shawnee girl gives back to Make-A-Wish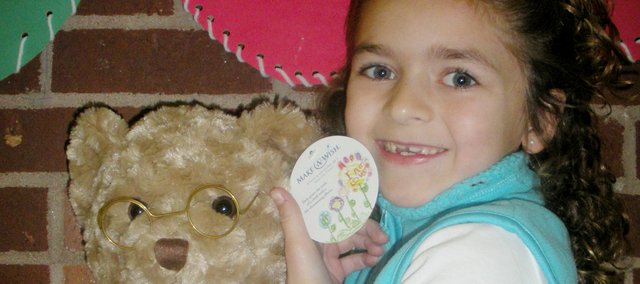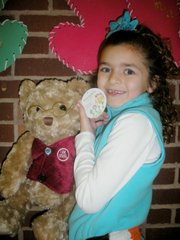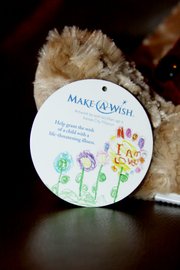 Jillian Sharp loves to draw, and her favorite color is pink.
The Bluejacket-Flint Elementary School first-grader put her skills to good use last spring when she visited Helzberg Diamonds headquarters in Kansas City along with fellow Make-A-Wish recipients.
Jillian and her new friends were asked to submit designs for the 2010 Helzberg Diamonds Holiday Bear tag. Each year, a Make-A-Wish child's drawing is featured on the bear's tag.
"I just thought of it and drew it that way," Jillian said of her picture with flowers and the words "I am loved."
This fall, Jillian and her mother, Staci Sharp, came home from school to find a box waiting.
Inside Jillian found the 2010 teddy bear adorned with her tag and a nice note, Sharp said.
"She was excited to have her artwork chosen," Sharp said. "It made her really happy."
Jillian's Make-A-Wish journey began in October 2007 when she was diagnosed with nephroblastoma, or Wilms tumor, a fast-growing cancer of the kidney.
Jillian underwent nine months of chemotherapy and radiation.
"She's 25 months off treatment, and doing really well," Sharp said. "We're thankful she's healthy and she continues to be healthy and well."
In April 2009, Jillian's Make-A-Wish dream came true. She was granted a trip to Disney World to see the princesses she loved so much.
Now, Jillian's giving back to the foundation that helped make her wish become reality.
"She does understand that she's helping others," Sharp said. "It's really important to her because she knows her wish was granted. She knows that the purchase of a teddy bear helps other kids' wishes to be granted."
Each Helzberg Teddy Bear is $14.99, and $5 from each sale goes to the Make A Wish Foundation.
In January, Jillian and her family will attend the Helzberg Diamond's Wish Gala to Sparkle, where Jillian will dress like a princess once again.
The black-tie event includes a live and silent auction with all proceeds donated to the Make-A-Wish Foundation.

Jillian's desire to give back won't stop there. In February, she plans to once again team up with friends for the Sweetheart Bake Sale. Last year, the girls raised more than $5,000 for for Gabe Putthoff, a 5-year-old Shawnee boy suffering from neuroblastoma. Gabe and Jillian met while receiving treatments at Children's Mercy Hospital in Kansas City.
Jillian and her friends will choose a recipient of the bake sale funds later this winter, Sharp said.
"It brings a lot of joy to us to know how far she's come and all the good things that are coming from her life," Sharp said. "She's a bundle of energy and has so much to offer."