Shawnee lawmaker leading charge for state's rights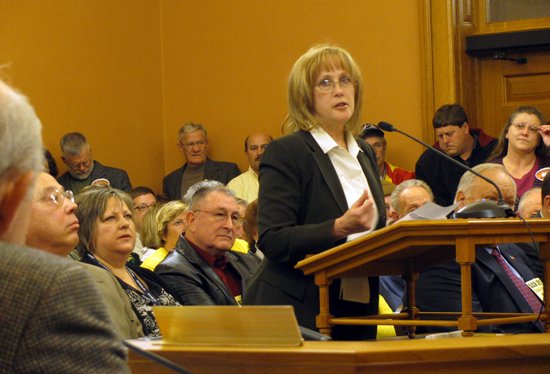 A Shawnee state legislator is making progress with legislation she says will protect the state's and citizens' rights.
Sen. Mary Pilcher Cook, R-Shawnee, is the lead sponsor of the Kansas Healthcare Freedom Amendment, a proposed amendment to the Kansas Constitution that would prohibit requiring Kansans to buy health insurance under a federal government plan. She also is active in pushing the Legislature to adopt a resolution that demands the federal government stop making mandates beyond the scope of the U.S. Constitution's 10th Amendment which gives states power over areas not specifically designated to the federal government.
Cook said though the federal government hasn't finalized a healthcare reform bill, she saw both items as important to protecting the rights of Kansans.
"Who knows what the federal government is going to do?" she said. "I think it's very important; it's the state's duty to protect the citizens' liberty."
Rep. Cindy Neighbor, D-Shawnee, explained that those who oppose the resolution and amendment see both as ineffective measures costing the state a lot of money and time at a time when Kansas has a budget shortfall.
"We're looking at making cuts of $400 million," Neighbor said. "I think we could do better work for the people."
Cook has been promoting the Healthcare Freedom Amendment since last fall, along with Reps. Brenda Landwehr and Peggy Mast in the House. It is based on a similar amendment that will go before Arizona voters in November.
Cook's amendment would have to be approved by two thirds of the House and Senate before it could go to Kansas voters for consideration in November 2010.
Cook said she has taken the forefront in the movement to support the amendment because she was the first to start contacting other legislators about it.
"You can get a lot done if you're not real concerned about who gets the credit for it, so that's kind of the attitude I have," Cook said. "I just kind of happened to have the idea."
Cook, Landwehr and Mast promoted the amendment last fall with the help of American for Prosperity group, spurring a protest and counter-protest in November in downtown Shawnee.
Cook said she has heard a lot of support for the amendment from constituents. In the Legislature, she thinks most Republicans support the proposal.
The Senate Public Health and Welfare Committee scheduled a hearing Tuesday afternoon on the proposed legislation, CR 1626.
"We have a high hurdle because we'll have to pass it with two-thirds vote in the House, go straight to the ballot," she said. "… It will be interesting to see what the vote is."
Cook said there were some common misconceptions about the bill among those who have spoken against it.
"They think this about not insuring all Kansans have access to healthcare, but in fact this proposed amendment is neutral to that because all this does is prevent government from forcing Kansans into any healthcare system they do not want," she said. "It still allows Kansans to participate in any government healthcare system they want, it just keeps the government from saying you have to participate."
The amendment would be supported by a Kansas State Sovereignty resolution Cook first introduced in February 2009, known as SCR 1615. Cook called it a formal declaration by the state that the federal government was overstepping the boundaries of power set in the constitution with its healthcare bill, saying the Healthcare Freedom Amendment is really a next step from the state sovereignty resolution.
"It's kind of like the federal government breached their contract with Kansas, and the amendment is the next step in trying to repair that contract," she said.
Cook said the resolution has received a lot of support.
"It just kind of built to a crescendo, more and more people started calling out for it," she said.
The Senate Judiciary Committee endorsed it with a 10-1 vote Feb. 3. The resolution is nonbinding, so it needs to pass by a simple majority in the Senate and House to be sent to the president, congressional leaders and heads of all state legislatures.
But Neighbor said the Legislature had bigger items to worry about.
"The resolution took up two days of Senate hearing time and floor time, and it will do the same in the House, and then it is a resolution that carries absolutely no weight," she said. "It's not like a statute or a law that we pass. No one has to abide by it or pay attention to it, and we've spent $3,000 and three days in hearings on it when perhaps we should be looking at the things are really affecting us right now. I would rather have spent our time working on things that actually have meaningful outcomes to the citizens of Kansas."
Cook, however, said the resolution was necessary and capable of making an impact when combined with similar resolutions from other states.
"When a whole lot of states are doing it, then the federal government really should listen, and I think they're having trouble listening right now," Cook said.
Neighbor said she doesn't know of any legislators who don't support state's rights, and she worries that the resolution is a way of using the Constitution as "something that we can amend on a whim if we don't like something."
"There has to be a good, strong, valid reason for changes, because it appears that we are using it as more of a tool for getting what we want instead of looking long-term at what the consequences will be," Neighbor said.
Neighbor said she also has heard from a lawyer who has studied the amendment and believes it likely would be found to be unconstitutional and thrown out.
"If that is true we would've spent a lot of time and money and an election on something that then would be null and void, and I'm not sure in the current state we're in that we can really afford to do that right now," she said.
Neighbor added it was strange to move forward with the amendment before Congress finalizes its healthcare reform bill.
"To say we won't abide by it but we still want our money is kind of an interesting position to be in," Neighbor said.