Editor's note: Dispatch Sports Editor Chris Wristen spent June 6-12 climbing Mount Kilimanjaro in Tanzania. The following is an excerpt from his travel journal.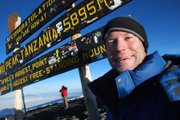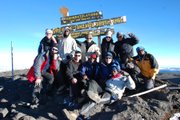 Photo Gallery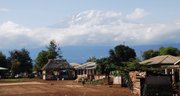 Dispatch Sports Editor Chris Wristen traveled to Tanzania and climbed Mount Kilimanjaro June 6-12.
The bus pulled back onto the highway after our lunch break in Moshi, and only then did the magnitude of our accomplishment begin to set in.
Early afternoon clouds lifted and, for the first time on our journey, revealed Mount Kilimanjaro in all of its majestic glory.
We'd stood on the summit barely 24 hours earlier, but this was the first time we'd seen the mountain from base to peak. In an instant, the feeling of invincibility we'd earned by reaching Uhuru Peak turned to humility.
Our faces were glued to the windows of the bus for the next 90 minutes as we made our way back to hotels and hot showers in Arusha. Like a magnet, the towering mountain pulled our eyes toward it. All the while, only one thought filled my mind: "How the heck did we do that?"
Seven days earlier when we drove into Kilimanjaro National Park to begin our weeklong trek, a light rain fell and thick clouds hid the upper slopes and summit from our sights. As a result, we never comprehended just how monumental of a task we'd taken on.
We were well aware of the physical strain our bodies would experience, and we knew the dangers of altitude sickness were very real. But by avoiding seeing Kilimanjaro in its entirety — looming menacingly over all of its surroundings with its haunting snow-capped summit — we'd avoided the additional mind games that this monster of a mountain loves to play on those who dare to test their luck.
It turned out the clouds and sprinkles of day one were probably a blessing in disguise. Our first glimpses of the summit came on day two when we were already at about 8,500 feet. That meant that throughout the climb the mountain seemed more manageable. As a group, all seven of us — three Americans, two Canadians and two Brits — accepted the challenge with enthusiasm and optimism.
Our confidence was bolstered even more because of our talented supporting cast of 26. Tanzanian law requires that you hire a guide and porters to climb Kilimanjaro. It creates jobs, bolsters the local economy and also serves as a safety precaution so less experienced trekkers don't get themselves in trouble. For our lead guide, Joshua Rhuhimbi, this was his 128th trip to the summit.
Even the most gifted staff can't guarantee safe passage to the summit and back, however. Ultimately, the true challenge of Kilimanjaro lies in whether your body can acclimatize quickly enough to massive altitude gain in a short period of time. That's why the shortest — and cheapest — route to the summit also has the lowest success rate.
Our route took five and a half days to reach the summit and a day and a half to descend while covering about 82 kilometers of trail.
None of us came from hometowns of significant elevation — in my case, Kansas City is approximately 1,000 feet above sea level. By the end of day one we were at 8,645 feet and already beginning to feel the effects of thinner air.
The next four and a half days became a test of strength, endurance and appetite as we pushed into higher altitude and endured the elements.
Some members of our group suffered mild altitude sickness. Most had headaches. Another lost his appetite despite the abundance of edible options, which included treats such as peanut butter soup, grilled cheese and grilled vegetable sandwiches, beef samosas and an endless supply of fresh papaya and pineapple.
After venturing above 15,000 feet during an acclimatization hike on day three, we dropped back down to about 12,200 feet to camp on day four. It was an important step in preparing our bodies for the summit attempt. We'd strained ourselves in the thinner air, and the return to lower elevation and more oxygen-rich air gave us the opportunity to breathe easier, sleep better and eat more heartily.
Rested and reenergized, our summit bid technically began on day five as we awoke at 5:30 a.m., ate breakfast and made a 10-kilometer, six-hour hike over boulders, through ravines created by glaciers long ago, and up to high camp Barafu (15,295 feet). We regained about 3,000 feet of elevation, and then spent the afternoon and evening sucking in the thinner air, scarfing down high-energy snacks and attempting to nap before the big night ahead.
Running on adrenaline and a late-night breakfast of porridge mixed with honey, our team set off for the summit at midnight sharp.
By the glow of our headlamps and with Joshua setting a "pole, pole" (Swahili for "slowly, slowly) pace, we made good time through the first two segments of the ascent route, first climbing over large rocks and then up a more gradual ridge. By 3 a.m., altitude sickness began to take its toll on a few of the climbers.
We were fortunate that summit night was calm. Temperatures were below freezing, but wind could have pushed the thermostat into negative territory and made the coldest hours — from 3 a.m. to 6 a.m. — far more grueling. At about 4 a.m., we began the steepest part of the ascent up loose scree and switchbacks. Our support staff had brought along a hot thermos of ginger tea, and that gave us just the boost we needed to gut out the final two hours and drag our bodies to the crater rim.
At 6 a.m., we took a break at Stella Point to watch the sun rise. Then, with minds hazy and legs like jello, we trudged one more hour to Uhuru Peak. At 19,341 feet, we stood at the highest point in Africa — two vertical miles above Denver.
For all of our hard work, our reward was 30 minutes of hugging, high-fiving and snapping photos at the summit before making the eight-hour journey down to camp.
A day later we were back on the bus, rolling toward civilization and counting down the hours to hot showers and cold bottles of Tusker, Safari and Kilimanjaro Lager.
The climb was a success, we'd all reached the summit, but right out the window the mountain taunted us one last time. For nearly a week it had encompassed our every thought, our every action. For 30 minutes we'd stood at its peak, reveling in glory and feeling like we'd conquered the world. But now, barely 24 hours later, it was still hard to comprehend: How the heck did we do that?
Maybe the answer to that question isn't really important. Perhaps the mountain's looks are deceiving. Maybe we'll never know exactly how we did it, but we have the photos and memories to prove it.