MIll Valley grad relishes
D.C.

intern experience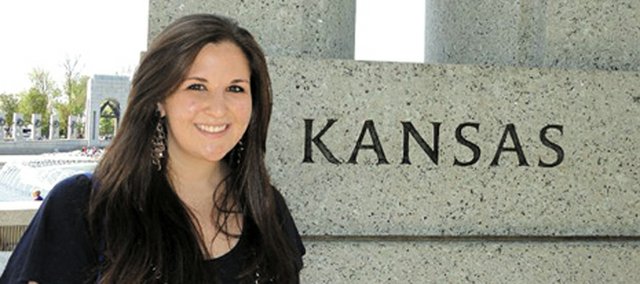 As a student at Mill Valley High School, Samantha Speer remembers an assignment to write a letter to her representative about the issues most important to her.
She kept that experience in mind for the last few months, as she worked as an intern for U.S. Rep. Eric Paulsen, R-Minn., in Washington, D.C.
"It was neat, because that is exactly what I was dealing with in D.C.," she said. "We got letters on a regular basis from classrooms or students expressing opinions, and it was really interesting to be on the other side of that."
Speer is a senior in journalism and political science at Kansas University and just completed her internship through the KU's 25-year-old Washington Intern Program, which this spring included 15 KU students and three Wichita State University students.
Interns can earn up to 12 hours of credit for participating in the program, but Speer said the real-life experiences she got went far beyond college credits.
"My internship was more than I expected or could have hoped for," she said. "… I did different tasks on a daily basis, and I learned more there than I probably ever could from a classroom. The real-life experiences, for example the healthcare debate, that I got to be a part of will stay with me forever. I was in the hub of the entire nation during huge historic events, and I got to talk to people about it every day."
Speer was active in newspaper and yearbook at Mill Valley, so she said there was no question in selecting journalism as a major in college. She added her political science major after her first two years at KU.
"I realized (journalism) was a rather narrow field and I wanted to combine something with it," she said. "I took an introductory political science class and liked it, so I stayed with it."
Time spent in KU's Blake Hall taking those political science classes led to Speer's involvement in the internship program. During her downtime, she would check the bulletin board in the building, and it was there she saw a poster that read "Spend a semester in D.C."
One look at the poster was all it took for Speer, who was born outside of Pittsburgh, Pa., to make her decision.
"I am from the East Coast, and D.C. was someplace I had only been once and it sounded amazing," she said. "I spent so much of my college career focusing on journalism, working for the (University Daily) Kansan and doing internships related to journalism, that I really wanted the experience for my degree in political science. And D.C. sounded like the perfect place to go, away from school and work and to try out a field and place I could see myself in down the road."
Speer said the application process for the program was easy enough. After contacting coordinator Burdett Loomis, Speer received e-mail updates about internship openings in Washington. To apply, she wrote a one-page essay about why she wanted to take part and what she believed she would gain from the program.
"I'd say the most stressful part was how much D.C. procrastinated in searching for interns," she said. "Most of us did not get internships until the last two months or so before we left."
This, she learned, was common; filling internships early is not a top priority on Capitol Hill. Speer said she had a few interviews before selecting the position with Paulsen.
Speer said her main job was to be involved with constituents, answering phones and organizing e-mails, letters and faxes, in addition to giving Capitol tours.
"Luckily, Congressman Paulsen's office really tried to involve their interns in all aspects of the office," Speer said. "We all got to do a ton of different tasks and that way we all learned a lot about the workings of a congressional office."
Interns also wrote letters, frequented the flag office, ran errands, attended briefings and wrote summaries. Speer said she also has learned a lot about U.S. history during her time in Washington.
"Although it was the most tiring, my favorite thing to do was giving tours," she said. "I am generally a loud and friendly person and enjoyed all the talking and information sharing involved in giving the Capitol tours."
Interns also met up weekly with the intern program's Washington coordinator, Stephene Moore, wife of Congressman Dennis Moore and candidate for his seat. She took interns on tours of the capital and helped them meet with Kansas representatives and senators.
"It was absolutely amazing," Speer said. "The people I met, discussions I had, places I went and tasks I was in charge of in D.C. convinced me that this was the place for me in the future."
Now, Speer is planning on an internship in Disney World from Aug. 23 to Jan. 7, 2011, a program she learned about while in Washington. She hopes the experience will help her in the future, should she try to get a job with one of the corporations owned by Disney.
"After Disney I have one semester of school left, and as of now my plan is to get back to D.C. as soon as possible," Speer said. "I loved being in the hub of everything that is going on in our nation and even internationally. However I am also excited to look into the possibilities that Disney might open up, I would definitely put it at my top five companies to be employed by."