USD

232 boasts two Kindest Kansas Citian finalists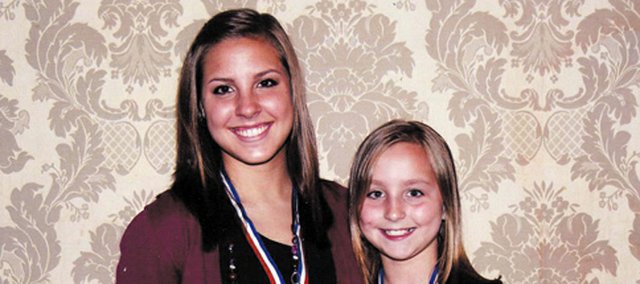 Hannah Darling knows what it's like to have kind people in her life.
"Kelsie Schuman signed up with the Youth Friends program this year," Hannah wrote in her essay for the Kindest Kansas Citian contest, in which Kelsie was a finalist. "But there is no way she could have known how much she would influence my life."
Hannah, a Clear Creek Elementary fourth-grader, is like most 9-year-olds.

She loves to sing, dance and do gymnastics. She has lots of friends. Her favorite subjects are science and writing.
But when she goes home after school, her life is a little different. She is unable to live with her parents, so she lives with her aunt and uncle, Cindy and Wes Seglem, and their two sons, Brody and Quinn.
At the beginning of the school year Hannah was assigned a Youth Friend, Kelsie, a Mill Valley High School junior.

The duo meet every week to play games, talk and share stories about their lives.
"She's really nice and supportive," Hannah said. "She helped me through rough patches. She gives me really good advice."

In her essay Hannah wrote about how excited she was to have a Youth Friend.
"I was excited to meet Kelsie. I was not disappointed," she wrote. "Kelsie is amazing. She made me feel at ease right away and became a very good friend to me."
Hannah decided to nominate Kelsie for the Kindest Kansas Citian after her counselor talked about the program.
The Kindest Kansas Citian, sponsored by Synergy Services, honors those in the Kansas City community that have demonstrated kindness. The essay contest is open to students in kindergarten through 12th grade.
Hannah thought it was a nice way to recognize Kelsie.
"I hadn't done an activity like this before," she said.
Kelsie wasn't the only one from De Soto USD 232 to be a Kindest Kansas Citian finalist.
Elizabeth Joseph from Horizon Elementary nominated counselor Kim Gasiorowski for the honor.
Elizabeth, a third-grader, wrote about Gasiorowski's ability to put students at ease and listen to their concerns.
"She makes me feel safe in the classroom like nothing can harm me," Elizabeth wrote. "Mrs. Gasiorowski left an impact on me to always be kind, considerate and to remember the character traits."
Gasiorowski was surprised to learn she was being nominated by a student.
"I invited all the students, kindergarten to fifth grade, to nominate an adult for the award," she said. "It was very touching to sponsor the contest and then be nominated in that contest."
Gasiorowski said the nomination meant a lot to her.
"To have a student think of me when that wasn't my intention is very touching. I was especially impressed by Elizabeth's essay because sometimes you don't know how you are impacting the student's lives when teaching in the classroom. Her essay showed me how much of an impact I made on her."
In her essay, Elizabeth shared that she hopes to one day be as good of a counselor as Gasiorowski.
On May 15, Kelsie and Gasiorowski, along with 18 other finalists were honored at the Intercontinental Hotel during the Kindest Kansas Citian ceremony.
At the dinner, students shared brief readings from their essays while standing on stage with their Kindest Kansas Citian.
"It was special to share with Kelsie," Hannah said of the night. "She taught me compassion for others and I hope to be a youth friend one day."
On stage Hannah read how much Kelsie means to her.
"When I told my Aunt Cindy about Kelsie, she said it reminded her of Eleanor Roosevelt's famous quote that says 'Many people will walk in and out of your life, but only true friends will leave footprints in your heart.' I am not old enough to have many footprints but Kelsie sure has left some pretty big footprints on my heart. Either she has very big feet or she is a very good friend."