Broadmoor students shine at SkillsUSA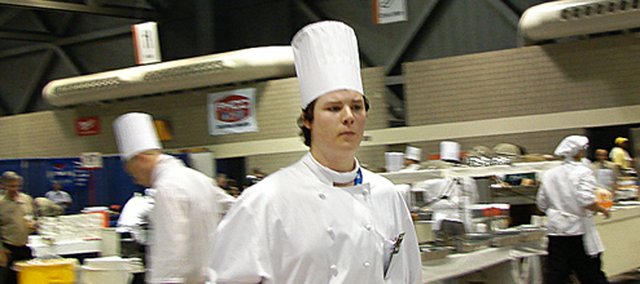 A group of Shawnee Mission USD 512 students has a bright idea, one that earned them a silver medal at the National SkillsUSA competition.
Broadmoor Technical students Jeff Lefko and Dylan McConnell, who will be seniors this year, soon-to-be junior Mark Majewski and 2010 graduate Mary Majewski received second place in the entrepreneurship competition this past week at nationals for their business design.
The group created a business, Urban Greenerz, specializing in organic food and microgreens.
"We would teach nontraditional students how to take care of the plants and how to plant them," Mark said. "It would be a nonprofit, and all the money raised at the end of the year would go to scholarships for students."
The team started working on the idea in January. The group took its final plans to the Kansas SkillsUSA competition in April.
"We didn't actually have to compete in state because there were no other teams in Kansas," Mark said. "We were ready to compete but we automatically went to nationals. All the other teams at nationals presented their projects before; we hadn't. We expected to do well but when we found out we got second, we were really excited and surprised."
The competition was closed door, so no outside viewers could watch, Mark said.
"All four of us were there to present, and we did a lot better than we thought we would," he said. "We had a little difficulty in practice, but we did perfect in the competition. I think we were down to the line of getting first. We don't have the final scores, but it was close."
Mark said Boardmoor's restaurant, The Broadmoor Bistro, gave the group the idea for their business.
"We have the restaurant here that we use microgreens and organic foods in," he said. "We're trying to get the community to eat healthier."
Each member of the group will receive a scholarship from SkillsUSA.
Jackie Frazier, Broadmoor instructor and SkillsUSA adviser, said the group did a fantastic job with its project.
In all, Broadmoor sent 11 students to the nationals, in competitions ranging from job interviews to graphic design, Frazier said.
"It was wonderful, students get so excited about the competitions," she said. "They have the camaraderie to meet others that enjoy the same things that they do. But it can be nerve-wracking for them, too."
Frazier said some students enjoy the event so much they come back after graduation to help.
"I saw two of my previous students there giving back," she said. "I saw one girl walk in — she was a competitor two years ago — and I was proud of her to come back from Kansas State University and give up her time to help at the competition."
"It's a really great thing, and obviously they gain respect for one another and it prepares them for the outside world," Frazier said. "There's a far cry from school to being able to work in an industry. It's a great place for students to go and talk to people in the industries they are interested in."
Mark said his group hoped to get its business off the ground and running, possibly at Broadmoor.
"Our principal is talking to the district to try and put something in place. I don't know if it will happen but maybe next year," he said. "Someone could buy into our business and we can make the business bigger. There is a lot of stuff that could happen but probably won't know everything until school starts."