Close call on attempted scam prompts warning from couple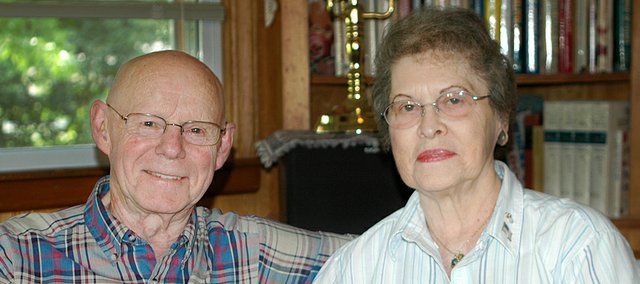 The early-morning phone caller had a worrisome tone to his voice when he reached Harold Klein at his Shawnee home.
"He said "Grandpa?" and I said "Yeah," and he said, 'This is Justin; I'm in trouble,'" Klein said.
Klein and his wife, Bernice, received the phone call last week from a man they believed to be their grandson. He said he was in trouble and needed help.
It wasn't their grandson, but a scam artist.
Luckily, the Kleins' transfer of nearly $3,000 was stopped before it went through and the Kleins got their money back.
Now, the Kleins hope their story will serve as a cautionary tale for others. They want to warn grandparents — especially those with grandchildren in the military — before they become victims of a scam.
Harold Klein said the call came in at 7:30 a.m. June 22 from someone posing as their grandson, a Marine who is stationed in Camp Lejeune, N.C.
Bernice joined Harold on the phone as the caller described how his friends had asked him to go to Canada with him, and while there, they got pulled over by authorities. Drugs were found in the vehicle, and while the man posing as Justin said he didn't have any drugs on him, he still needed money for bail and legal fees.
"I looked at Harold and said,'Oh, wow, we've never had a grandchild in trouble like this,'" Bernice said.
The Johnson County District Attorney's Office sent out a notice warning of the "grandchild emergency" scam in January this year. The warning noted the caller would simply say, "It's me, your favorite grandchild," and the grandparent often would offer a name of who it could be, so the scammer could take on that identity to ask for emergency funds.
In the Kleins' case, the caller not only offered a specific name of their grandchild — including his military rank and Justin's last name, which is not Klein — but also sounded exactly like their grandson, they said.
"He mimicked his voice and everything," Bernice said, explaining the caller used the same deep voice and lilt in his words as their grandson uses when greeting his grandparents. "Someone had listened to him talking to his wife or something."
The scammer told the Kleins he needed $2,750 to be sent to his lawyer, John Bean, giving them an address in Madrid, Spain, as well as a telephone number. The caller told the Kleins to go to Hy-Vee to wire the money through Western Union.
"I still had this funny feeling, but I think as a grandparent, you lose your head a little when you hear he's in trouble," Bernice said.
The Kleins got the money and went to Hy-Vee, but they found out the store was limited in the amounts it could transfer via Western Union, so they went to Price Chopper, which had a higher limit.
Once the money was sent, the Kleins called Justin to let him know the money was on its way. It was then that they quickly realized the call was a scam. They contacted the Shawnee Police, who were able to stop the money from being transferred through Western Union. The money was returned the same afternoon.
"We lucked out; we got our money back. But it was pure luck with the officer in Shawnee," Bernice said.
Given the level of information the scammer had on their grandson, the Kleins wonder if scammers might be targeting military grandparents now, so they hope military families are especially aware of the scam.
One thing Bernice knows — she is holding on to all the documents from that day, including the Western Union receipt, as a reminder to be more cautious.
"It was unreal, that whole day is just unreal," she said. "… In hindsight, if I'd been using my brain right, I would have turned around and called Justin right away."