Fireworks set for July 4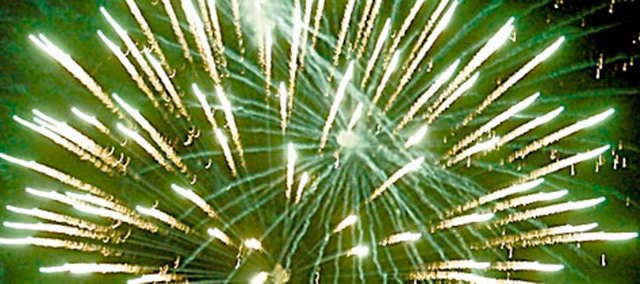 There will be no fireworks display again this year at Shawnee Mission Park, but there will be plenty of flares lighting up area skies this weekend in honor of the nation's birthday.
Tight budgets have caused the cities of Shawnee and Lenexa to suspend their support for the annual show that had lured thousands to Shawnee Mission Park. Area Fourth of July fireworks displays still taking place Sunday include:
• De Soto 4th of July Celebration at Riverfest Park.
• Star Spangled Spectacular, Corporate Woods Office Park, Overland Park
• Basehor Independence Day Celebration, Basehor-Linwood High School.
• KCRiverfest at Richard Berkley Riverfront Park, Kansas City, Mo.
• CommunityAmerica Ballpark, Kansas City, Kan., will have fireworks at the conclusion of the Kansas City T-Bones vs. Fargo-Moorhead RedHawks game.
• Great Mall of the Great Plains, I-35 and West 151st Street, Olathe.
• Lansing Fourth of July Celebration, Kenneth W. Bernard Community Park, Lansing.
• Fort Leavenworth's Salute to the Union and July 4th Celebration at the fort's Merritt Lake (those 16 and older must show a valid photo ID to enter the fort).
This story was changed to reflect a correction concerning the CommunityAmerica Ballpark fireworks, which will be at the conclusion of the Kansas City T-Bones game on July 4.