Five Questions: Fireworks Safety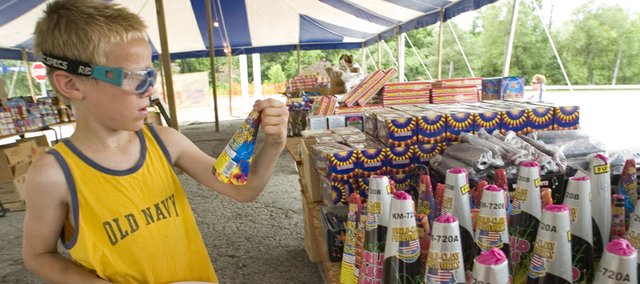 Sunday is the Fourth of July, and in many places that means fireworks. It is illegal in Shawnee and most of Johnson County to discharge fireworks. The Kansas State Fire Marshal's Office offers these fireworks safety tips but cautions only to use them where legal.
Q: What should you be aware of when purchasing fireworks?
A: Always purchase high-quality fireworks from a reliable, legitimate source. Bottle rockets and other skyrockets that are mounted on a stick or wire are illegal.
Q: Who should be allowed to shoot fireworks?
A: Adults should always supervise use of fireworks by older children. Anyone using fireworks should always read and follow label instructions. Never give fireworks to children.
Q: What other rules about fireworks are there?
A: Alcohol and fireworks don't mix. Have a "designated shooter." Always wear eye protection when lighting fireworks. Never ignite fireworks indoors. Make sure your outdoor area is safe for fireworks use. Have a source of water handy in case of fire.
Q: What about actually lighting fireworks?
A: Light only one firework at a time. Never point or throw fireworks at a person, building or animal. Never shoot fireworks in metal or glass containers. Never attempt to relight malfunctioning fireworks. When lighting fireworks, never position any part of your body over them. Never experiment with homemade fireworks. They are dangerous and illegal.
Q: What areas have strict prohibition for shooting off fireworks?
A: It is illegal to shoot fireworks on or under a vehicle, on any public roadway, within 50 feet of a firework stand or where fireworks are stored, and gasoline stations or any place liquid gas — including propane — is stored.