KSU

grad's 'Illuminated' design an award winner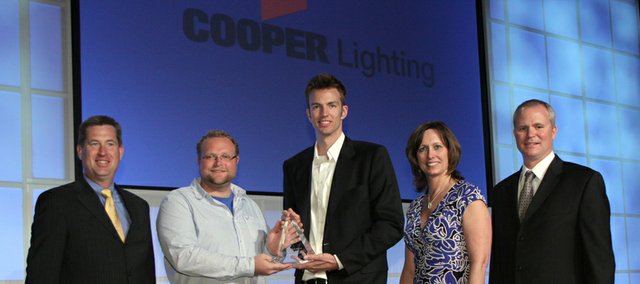 When it comes to his professional life, Matt Johnson lives by a mantra he learned at school: design, design, design.
"Whether it's a coffee cup, a table or the interior of a 30,000-square-foot office building, design is everything," said Johnson, who moved with his family to Shawnee in 2005.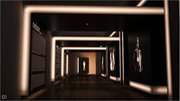 And if almost to prove his point, Johnson, who recently received a master's degree from Kansas State University in interior architecture and product design with an emphasis on furniture design, won a national lighting competition.
On May 11, Johnson was awarded a crystal trophy and $1,500 in recognition of his first-place win in the 2010 Cooper Lighting SOURCE Awards National Lighting Design Competition for his project titled "Illuminated."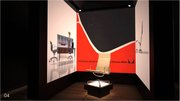 For his project, Johnson designed a portable exhibit, which showcased pieces of furniture from eight iconic designers. In his design, Johnson used Cooper Lighting products to guide people through his exhibit, highlight information from the designer and to highlight the individual furniture pieces. The rest of the space strategically uses darkness to add to the atmosphere.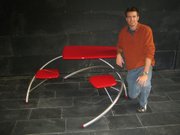 "It was a very dramatic space," Johnson said. "The light was used as visual interest, for way finding, information and to highlight and the display."
Johnson's entry was a project he did for his professor, Neil Hubbel. It was a modification of a project Johnson worked on while studying abroad in Denmark, where he was supposed to make a lighting display for a traveling exhibit.
He said the idea of using Cooper Lighting products for a portable exhibit is what helped separate him from the rest of the pack in the judges' eyes.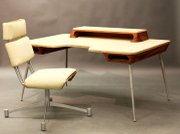 "They've never had an entry that used their lights in a temporary lighting space," Johnson said. "Typically (contestants) used their lights in a retail space or for an office space. I was able to use products, which were typically used for a permanent installation, and showed how they could be used in a portable installation. They were impressed with that."
He said he was surprised with the win because he only had the month during his winter break to work on the project.
But while Johnson is still basking in the glow of his national lighting award, he is already moving back to his one true passion: furniture design.
He has recently returned from a two-week workshop at the Center for Furniture Craftsmanship in Rockport, Maine.
He was also accepted for a special nine-month program at the same center, which would give him special certifications in furniture making, but he said he couldn't afford it just yet.
Instead, he will be heading back to Denmark for a year-long paid internship before coming back and working on his ultimate dream, to open his own furniture design and manufacturing business.
"I'm trying to skip that part of my life, where I have to do something else for 10 or 15 years," he said. " I may enjoy working at a firm, but I just I want to design furniture. I want to build it. That would be nice."