Leawood gallery fundraiser to benefit
SMSD

schools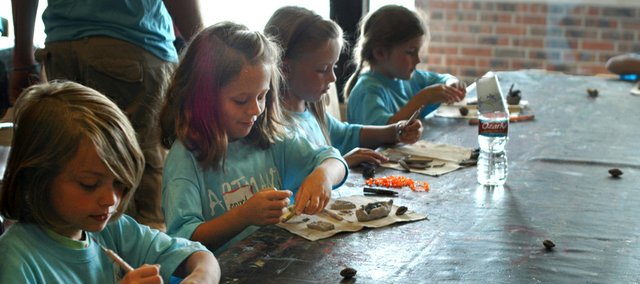 The owner of an art gallery in Mission Farms is giving back to the place where she got her artistic start, Shawnee Mission USD 512.
Becky Pashia, owner of ARTichokes, 10557 Mission Rd., in Leawood, is a Shawnee Mission East graduate and recently began a foundation to support art in the community. Her gallery's first benefit project is to raise funds for art and music programs in the Shawnee Mission district.
ARTichokes will play host to Art 101 on July 10. Art submitted by 4- to 19-year-olds will be auctioned off at the end of the afternoon.
"We wanted to do outreach for kids and adults," she said. "I wanted to give back to Shawnee Mission because that's where I did my first painting. I was 16 and was placed in an art class on accident. The first assignment was to paint something, and I painted an artichoke. It was chosen for the purchase award, so East bought the painting. I've been painting for 25 years now. This is sort of a way to say thank you and promote music and art."
All funds from the showing and auction will go to the Shawnee Mission Education Foundation for music and art programs, Pashia said.
Children ages 4 to 14 can have a piece of art displayed for auction by purchasing an 8x10 canvas from ARTichokes for an entry fee of $5. Artists ages 15 to 19 can purchase an 11x14 canvas for a $10 entry fee. Paintings can be in any medium but must have finished edges, Pashia said. Subject matter is open, but ARTichokes has the right to decline entries as it sees fit.
Pashia noted that ARTichokes has an open studio from 1 to 9 p.m. Fridays if entrants would like to paint at the studio. Entries are due by 6 p.m. July 6.
"We hope that the kids see how important their pieces of art are," Pashia said. "It's one place they can let their true personality shine."
ART 101 festivities include refreshments and live music by Shawnee Mission student musicians. For $10, guests can receive raffle tickets for paintings by local artists and gift certificates to local businesses.
Artwork will be on display from noon to 2 p.m., the silent auction will be from 2 to 3 p.m.
"I really think the kids will have fun and have their art presented, and they can feel good to help support schools. Their money will go to help program; it's a great lesson for them to learn."
Pashia said creating the foundation was the last piece to a dream.
"It's just something I've always wanted to do," she said. "We do group paintings and I thought it would be neat if we can take our business to the community and the foundation will allow us to start giving back."

Pashia hopes to make the auction an annual event to raise money for Shawnee Mission schools. But she said she planned to raise money for other districts in the Kansas City Metro, as well.