Scouts set up Old Glory for annual Flags for Freedom display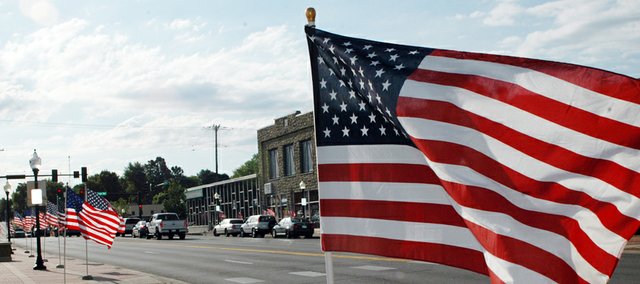 At 5:45 a.m. Saturday, Logan Hagan arrived in downtown Shawnee for his first time helping set up the Flags for Freedom display with Boy Scout Troop 194.
He and his fellow Scouts moved slowly down Johnson Drive, placing their portion of the 1,100 flags in the display on stakes or rebar stands from Quivira Road to Switzer Road. But it wasn't until Logan drove back down the street and got a good look at all that the Scouts had done that the importance of his volunteer effort settled in.
"We were really surprised we'd actually done all this when we looked at it," Logan said.
About 60 volunteers turned out Saturday morning to help put up this year's fourth-annual Flags for Freedom display, Shawnee's companion to the Fields of Freedom in downtown Merriam.
The flags on Johnson Drive in Shawnee meet up with flags in downtown Merriam. Flags also are placed on Nieman Road from Shawnee Mission Parkway to 55th Street.
Though the flags are now in place, the display, organized by the Shawnee Downtown Business Association, could still use some help.
Mike Unterreiner, owner of Hartman Hardware, said Flags for Freedom still was accepting donations in support of the display. The association spent about $500 to buy 50 more flags for this year's display and create new pole stands for flags placed on the bricked downtown streetscape.
"It's not a fundraiser per se; we just try to raise enough money to cover costs," he said. "We try to replace the faded ones that don't look good anymore, because we don't want it to appear unpatriotic."
Flags can be sponsored for $25, and sponsors can purchase a dedication for an additional $1 to honor a family member or friend. The 85 flags already dedicated have been placed in the grassy area at Herman Laird Park south of Shawnee Town.
Those who purchase flags can take their flag home at the end of the display, or donate it to be used again next year.
Unterreiner said the association also needs help making sure the flags aren't stolen. An association member checks the display daily. Unterreiner said seven flags have been stolen in the first two days of the display.
Volunteer help will be needed again on the last day of the display as well. Volunteers will meet to take down the display at 4 p.m. Monday, July 5.
"That takes more time than putting them up, so we try to get as many people as we can to help sleeve the flags," Unterreiner said.
Donations to the Flags for Freedom display can be made at Hartman Hardware, 11018 Johnson Dr., (913) 631-7592, or at Encore Unique Boutique, 11006 Johnson Dr., (913) 268-5393.
Daily events are scheduled at Merriam Marketplace, 5740 Merriam Dr., in conjunction with the Merriam Fields for Freedom display, including a closing "Taps" performance nightly featuring instrumentalists from Bugles Across America.
Nightly free concerts at 6:30 begin Wednesday, June 30, with music by the Skip Hawkins Band. Other bands performing are The Good Sam Club on Thursday, 51% Blues Band on Friday and Doghouse Daddies Band on Saturday.
At 2 p.m. Sunday, July 4, a ceremony will mark the retiring of the colors with visitors joining others from across the nation in singing the national anthem.