Young Shawnee actress aims for
NYC

spotlight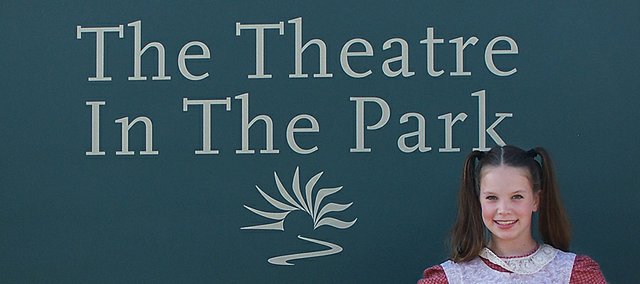 Maycee Steele says the worst time she has before a performance is just before she gets on stage.
"I'm not nervous when I'm out there doing something," Maycee said. "I get nervous when I'm backstage getting ready. That's when I get really nervous."
Judging by her resume, you wouldn't expect that the vivacious 11-year-old from Shawnee could get nervous before a performance.
At the age of 4, she started to learn how to dance. Three years later, she was dancing competitively. At 9, she added singing to her repertoire and that same year she was playing Ethel Toffelmier's daughter, a band kid, and in the chorus of "The Music Man" at Starlight Theatre.
The next year, Maycee picked up the role of Brigitta Von Trapp in the New Theatre Restaurant's production of "The Sound of Music."
She's even moved on to television with a role in a Delta Dental Commercial.
This year, Maycee is taking on the role of Tessie as part of Shawnee Mission Park's The Theater in the Park production of "Annie."
Tessie is one of the orphans who is best known for her whiney demeanor and her humorous catch phrase, "oh my goodness, oh my goodness, oh my goodness."
Maycee said it is fun playing Tessie, because she is nothing like her character in real life.
Maycee's mother Shelley Steele, agrees.
"She is very mature for her age," Steele said.
Despite Maycee's foray into acting, she is still first and foremost a dancer.
This year Maycee won a National PTA reflections program award of excellence in intermediate dance choreography and a scholarship to a summer dance workshop in New York put on by The Pulse.
"I think dancing is my strongest point," Maycee said. "I've been doing it the longest and I love doing it more, but I still like doing musicals and stuff.
"I think I want to be well rounded because I want to be able to get different jobs and stuff. I want to be a triple threat."
And what does mom think about all of the performing?
"It's exciting, it's challenging and it's time consuming, but it's a lot of fun," Steele said. "She enjoys it so much. If she didn't enjoy it so much we wouldn't be doing it."
While Maycee hopes to one day see her name at the top of a marquee in New York, she is getting ready for her next step in life: sixth grade at Mill Creek Elementary. Maycee and the rest of the Annie cast can be seen for three more nights – Thursday, Friday and Saturday – at Shawnee Mission Park.