Eggtc. offers new spin on breakfast, lunch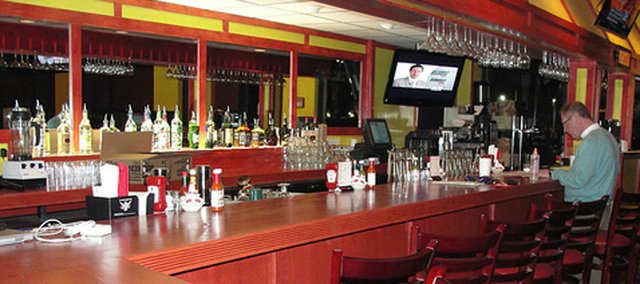 Shawnee residents have been taking advantage of a new breakfast, brunch and lunch option in town.
Eggtc., 7182 Renner Road, had a soft opening March 15 in the former Arizona's Bar & Grill space next to Minsky's Pizza. It's the second location for the eggtc. brand owned by the same company that owns the Minsky's chain. Ron Kalcic, co-owner, said people in the area have been anxious for their opening day.
Kalcic said thus far, customers had greeted eggtc. with open arms.
"Everything's been pretty smooth," he said. "We haven't had any complaints, and that's always good."
The original location at 51st and Main streets in Kansas City, Mo., has been open for four years. Gregg Johnson, managing partner with the restaurant chain, said the company had been considering opening a second location for some time and thought the Shawnee location would work well with its proximity to Interstate 435 and a loyal crowd of Minsky's fans.
The Minsky's regulars will recognize Kalcic, who has been with the company for seven years and spent the past several years at the Shawnee restaurant.
"I've been around this area a long time, and I've seen a lot of regulars already," Kalcic said.
Kalcic said eggtc. provides a higher quality of food than some other breakfast chains in the area.
"We're more of an upper-class breakfast place," he said. "I believe our coffee is a million times better tasting than theirs, as well as having a full bar with mixed drinks."
The menu features many classic breakfast items like crepes, pancakes and waffles, and Kalcic recommended omelets with names like the Margarita and the Salubrious. There are sandwiches, wraps, soups and salads after 11 a.m. for the lunch crowd, and Kalcic said the restaurant's burgers are "hands-down delicious."
Kalcic said the restaurant plans to expand the menu and offer daily specials once everything is up and running.
"Our Minsky's reputation, we bring that over here," Kalcic said. "We use fresh ingredients on everything."
That reputation seems to have translated beyond just the regulars; in the days leading up to the restaurant's opening day, Kalcic said people were constantly knocking on the windows, hoping it was its first day.
"This is our third day, zero advertising at all, and we've had a steady flow all day, really," he said last week.
The restaurant offers wireless Internet access and a private room that seats up to 56. While eggtc.'s hours are 6:30 a.m. to 2 p.m. daily, Kalcic said arrangements could be made to reserve the room after hours.
The Shawnee location can be contacted at 631-4400.