MVHS

teacher strives to challenge students
Wieland named secondary teacher of the year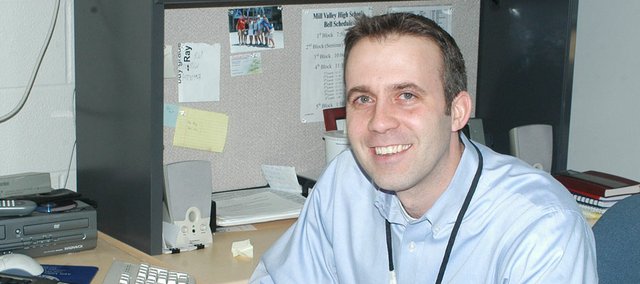 A parade of people marched into Jeff Wieland's Mill Valley High School classroom before spring break.
Wieland, the school's consumer economics and advanced placement U.S. history teacher, was named De Soto USD 232's secondary Teacher of the Year.
"I was teaching an assignment about dropping the atomic bomb," he said. "Then a bunch of people came in and did the presentation. It was nice to have the students there; they were excited."
Each year, the district awards an elementary and a secondary Teacher of the Year award for excellence in the classroom. Recipients go on to compete at the regional level; some have even made it to the national Teacher of the Year competition.
"We have a lot of exceptional teachers in the building and across the district," Wieland said. "All of the teachers are committed and do extra for students. This means a lot because I know the quality of fellow teachers to be chosen from the group."
Wieland didn't always know he wanted to be a teacher.
"It was a matter of exploring my options," he said. "I have done a lot of things. I wanted to experience as much as I could before making a decision."
Wieland attended the University of Pennsylvania to receive his degrees in history and economics. After serving as a paralegal in Washington, D.C., for a year and a half, he attended George Mason University for his master's degree.
While in Virginia he met Matt Fedde, the current associate principal at Monticello Trails Middle School. Their friendship would come into play years later when Wieland and his family moved to the Midwest.
Wieland began his teaching in the area, then moved across the country to California, where his wife had a clerkship after finishing law school.
Wieland taught at a middle school in inner city Los Angeles for a year. The next two years, he stayed home to care for his son.
In 2005, the decision was then made to move to the Midwest.
"Mr. Fedde said he had a great high school for me to look at," Wieland said. "We moved out, and I've been teaching at Mill Valley ever since."
Wieland said he thought it was important to teach all levels of students. In addition to teaching advanced placement U.S. History and consumer economics, he teachers a remediation reading course for freshman.
"If you teach only self-motivated students, they will do what you ask," he said. "You really learn about yourself as a teacher when you teach all kinds of students."

Wieland says he tries to put himself in the place of a student and how they would want to learn.
"I like the challenge and taking the initiative," he said of teaching. "It's rewarding to do. The purpose is to improve lives of people. I want students to be active learners."
Wieland said it was fortunate for him to work for a district and school that support his passions.
During his second year at MVHS he created a lesson plan for additional advanced placement courses. However, the programs weren't fully approved for expansion until this school year.
"I wanted to continue to challenge students," he said. "I believe we have to contribute to that.
"If I can leave students with skills in reading, writing and reasoning that's what I hope for," he said of his teaching goals. "I want to teach them to think, not what to think. I'm not preparing history students, I'm preparing them to be citizens."