North softball earns season-opening sweep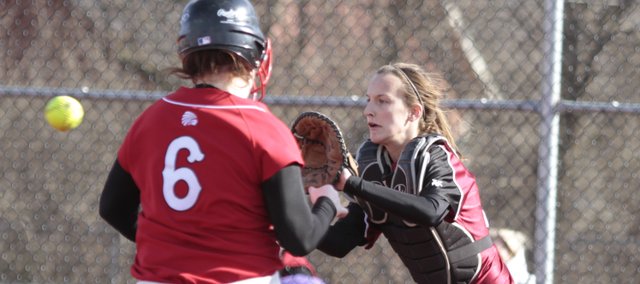 Entering its season-opening doubleheader with visiting Shawnee Mission North on Thursday, the Lawrence High softball team figured its new — and long-awaited — state-of-the-art facility would provide a home-field advantage of sorts.
Instead, it might have done more harm than good.
Unable to use the lights that surround the field because they haven't yet met specifications consistent with an agreement between the school district and the Centennial Neighborhood Association, the teams' second game Thursday night was called after five innings due to a lack of daylight, sending the Lions home with a narrow 3-2 loss and ruffling the feathers of the team's longtime coach.
"I think it's absolutely ridiculous that we have to end a varsity softball game in the fifth inning because we can't turn on lights that we have," Lawrence High's Reenie Stogsdill said. "It hurts the girls more than anything. We have a chance to come back and win a game, but we can't because we can't turn the lights on."
The lighting issue may have limited the Lions' opportunities to rally, but it helped North open the season with a 2-0 record.
The Indians won game one, 4-2, and then hung on for a 3-2 victory in the nightcap.
North took charge of game one when Melissa Redick smacked a two-run single to right field in the second inning. Lawrence countered with a run in the bottom of the inning, but the Indians added to their lead and rode the arm of pitcher Mary Pat Specht to the victory.
Lawrence turned up the intensity in game two and out-hit North, 6-4. The Lions also put themselves in a favorable position after tying the game at 2-2 with a two-run third inning that included three extra-base hits.
Before the start of the fifth inning, however, with the game still tied at 2, both teams' coaches met with the umpires and decided that, due to the quickly approaching nightfall, they'd play one more inning before calling the game.
The Indians (2-0) promptly manufactured a run in the top of the inning off a B.J. Specht leadoff single, while the Lions couldn't answer in the bottom of the inning despite having two runners reach base.
North next plays at 4:15 p.m. Tuesday when it plays host to Olathe North in a doubleheader at the Shawnee Mission District Softball Complex.