Candidates share views on role of Council members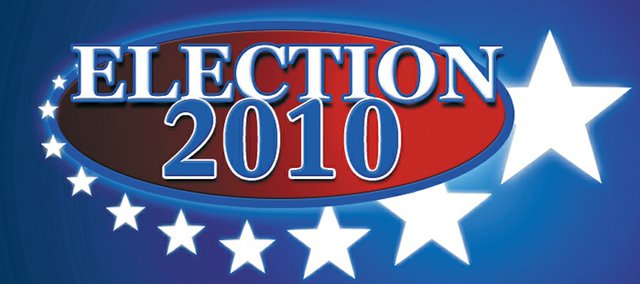 Editor's note: The Dispatch was unable to contact Frank Goode before deadline for the print version, and his comments were added later.
The role of a Shawnee City Council member can be hard to define and, in many ways, is up to the Council members themselves.
Beyond attending their meetings, Council members determine what their most important responsibilities are, how they will make decisions, and how they will gauge the wants and needs of the residents they serve. Candidates for Shawnee City Council in Tuesday's election shared with The Dispatch their answers on how they see their duties as Council members.
Ward I
Candidate Jim Neighbor said he would stick closely to the Council member responsibilities laid out in the Shawnee Municipal Code: determining current and future city goals, developing the policies and direction to achieve these goals, and promoting the welfare and development of Shawnee.
He said he also would take a proactive role to be a liaison between constituents and city administration.
When making decisions as a Council member, Neighbor said he would take constituent concerns, staff recommendations and his own knowledge/opinion of what is the best course of action. But he said a responsible Council member also "should have a spatial awareness of everything going on around him/her that pertains to what is happening in or effecting Shawnee, the surrounding cities, Johnson County, and the state."
"An informational sponge if you will, to gather the facts needed to make the best possible decisions, policies and direction for the City Administration to implement," he said. "Then the Council should actively monitor that these policies and procedures are put into action according to Council mandate."
Neighbor said that if elected, he would like to establish an interactive Web site to survey his constituents.
"This I would do, in addition to being a very visible part of Shawnee activities to have firsthand interaction with the Ward 1 constituents, to visit with them and understand their feelings, thoughts, and opinions," he said. "I would use this information to formulate my position on the various Council issues. A responsible Council member should govern from a position of consensus of his/her constituency."
Incumbent Dan Pflumm said in addition to overseeing the city staff and making fiscally responsible decisions, a Council member needed to communicate with constituents and address constituent issues.
This communication should factor heavily when making decisions for the city.
"The most important factor would be constituent concerns," Pflumm said. "A Council member should always act in the best interest of the electorate and not special interests."
Pflumm said Council members also should always be accessible to their constituents whether in person, by phone or via e-mail.
"In addition to this, a Council member should always evaluate the issues presented at Council meetings with regard to what will be in the best interest of the citizens who elected them," he said.
Ward II
Candidate David Morris said he breaks a Council member's role into three duties: acting as an ombudsman, focusing on constituent services; a community leader, initiating programs that promote and help develop Shawnee; and finally a policymaker that works with the Council as a whole.
When casting a vote on those policies, doing so with his constituents' desires in mind is most important, he said.
"I believe the desire of the majority of all Ward II residents should determination the way I vote," Morris said. "Having said that, the majority of Ward II is not engaged in their government, so I will have to rely on staff recommendations and what I think Ward II would like."
This is why Morris said he would like to use his position, if elected, to help get constituents involved while gauging their opinions on matters.
"One of the goals I would have if elected is to actively engage Ward II in their government," he said. "I will make every attempt to knock on doors and hold public meeting on a regular basis to keep informed of the needs and desires of Ward II."
Frank Goode, incumbent, said a Council member's number one responsibility is to represent the people.
He said Council members should keep this responsibility in mind at all times and should "vote the will of the people" when making decisions for the city's government.
"I want to do the best job I can do for the majority of the people in my city or in my ward," he said. "I respect people's decisions, and when people tell me that I should do certain things, I'm going to work with those decisions. I'm going to do what I think is the will of the people."
Goode said keeping in touch with the constituency is an important part of a Council member's job, and after 30-plus years as a Council member, his constituents often communicate with him when they have questions or problems.
"Most of it, I can handle over the phone with people, they call me and we handle their concerns," he said.
He said he also tries to attend community meetings to meet with residents.
"You've got to discuss a lot of different issues with different people," he said. "I like to go to any group meetings. I've been to several neighborhood meetings over the years. I've got to contact people in a personal manner."
Ward III
Dennis Kissinger said it is important for Council members to remember that the responsibility of overseeing the city rests with the governing body as a group, not with an individual Council member.
"The City Council determines what is to be done, and the professional staff, with the city manager as the CEO, determines how best to accomplish that policy direction," he said.
As an individual, he said a Council member should represent constituents' interests and maintain good communications with them and act as a liaison between residents and city administration. It's also a Council member's responsibility to understand how the city operates and continue to educate themselves.
Kissinger said Council members must blend a variety of information when making decisions for the city, including staff recommendations.
"Council members always take into account public input, community culture and traditions in considering policies or ordinances," he said. "Along with that a good Council member uses his/her own experience, instincts, values and judgment to reach what is believed to be the best decision for the whole community."
To become knowledgeable with constituent opinion, Kissinger said Council members should use both the formal public meetings and informal methods to listen to residents. "While always seeking input, the Council member must be careful not to just listen to the 'loudest voices,' and careful not to assume that the 10 phone calls received on an issue represent fully the views of thousands who may be in the 'silent majority,'" he said.

Kissinger said Council members also should make efforts to be familiar with the entire city in addition to their ward. He said he believes regular citizen surveys can be extremely helpful in gaining views and would support surveys in Shawnee.
For Jeff Vaught, it's important for Council members to be involved in multiple areas of the community to have a good knowledge of concerns and needs of constituents and the city as a whole.
He said his own current involvement with the Shawnee Chamber of Commerce and other community groups already helped him get in touch with the community.
"I don't need to depend on receiving e-mails to know what people are thinking, what people want," Vaught said.
He said Council members should base their decisions on this knowledge — what their constituents want over what they as a Council member want.
"When you're elected to a position, whether you personally want something or not, it's what the residents of your ward want," he said. "People vote for you to represent them, and you can't just be all about what you want and what you think is right."
If a Council member believes an issue is important for the city, they need to explain it to residents in their ward.
"If you believe firmly in something, it's up to you to get out and meet with them, hold town hall meetings and get people to see why it's important," he said.
A long history of community involvement can only make for a better Council member, he said.
"I think it's paramount that the Council members not only have been active in the community but continue to be active in the community," he said. "In my business, with what I do, I deal with property owners, I deal with business owners, so I hear their concerns always. So every day, I'm in the mix, this is on my radar and what I do. It's important that we've been involved, that we've been here for a long time and keep connected with the community."
Ward IV
Challenger Lori Barngrover said a good Council member keeps in contact with her constituents, represents the views of her ward, but also is involved in the community and stays informed on current issues.
But Council members also should work with city staff and trust their recommendations for what the city needs.
"City Council members are not expected to be experts on all topics regarding the city, which is why we have great city staff to rely on their findings and expertise," she said. "After considering the staff recommendations we need to also consider what the constituents want to see done."
Barngrover said it is important for Council members to be both easily accessible for their constituents and able to attend city events.
"I think Council members need to be available for phone calls, e-mails and community gatherings where constituents feel like they can express their concerns for the city or their neighborhood," she said.
Michelle Distler, incumbent, said Council members must combine responsibilities of being an advocate for constituents, addressing their concerns and interests, and being an administrator for the community, initiating policy, determining short- and long-term goals and promoting the city's development.
Council members also are responsible for keeping the government in line, assuring constitutionality of laws and providing residents the opportunity to have a voice in their government.
"It's government's responsibility to be attentive and responsive to the needs of the community, and it's been my experience that government works best when citizens participate," she said. "That's why it is so important for Council members to provide residents the opportunity to take an active role in shaping their community, and share their opinions and concerns with the Council."
Distler said a Council member's decision-making process is a complicated balance of the concerns of residents with the needs of the city.
"That is why the more information that can be gathered from a variety of concerned sources the better — feedback from the community, impact and feasibility studies, staff recommendation, case histories, legal insight, expert testimony, etc.," she said.
Distler said community involvement could help Council members gain valuable insight into matters important to their constituents.
"Prior to Council meetings and deciding how I will vote, I find it helpful to expand the parameters of the discussion by keeping an open mind and listening to the opinions of residents, concerned parties, staff and other council members," she said. "The key to striking a balance on difficult issues and arriving at fair solutions is to remain knowledgeable and informed on the needs, expectations and requirements of your constituents, community and city."