'

Power of the Pen' links students with celebrities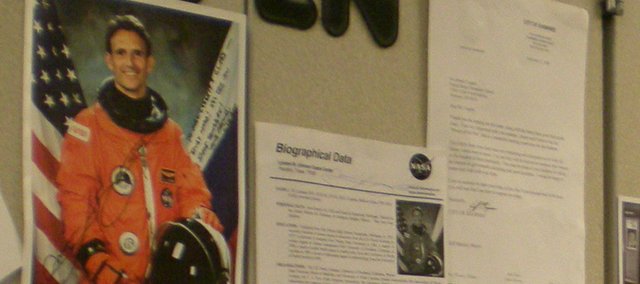 Famous names have been a common occurrence this year in Brandi Leggett's third-grade class at Prairie Ridge Elementary School.
Leggett's class has received correspondence from local and nationally famous people through the class' Power of the Pen project.
The project, which strives to improve writing and communication skills, began early in the school year when Leggett's class made a list of famous people to write to.
Among the names on the student's letter-writing list were worldwide personalities as well as local celebrities.
Leggett created the project when she was a teacher in Philadelphia. When she began this fall at Prairie Ridge, she brought the program along.
"The purpose is for the students to see that no matter what, writing is a lifelong skill," she said. "I want them to build more of a love for writing."
Leggett designed the project as a supplement to regular classroom writing, pairing letters to people involved with topics the class is currently covering. When the class was learning about space, they wrote to astronauts Neil Armstrong and Jerry Linenger.
Leggett's students have been receptive of the project.
"I didn't used to like to write, but now I do," said Will Hecht, who noted the project has been a lot of fun.
Each week, Leggett chooses a person from the class' list to write to, rotating between men and women. Each student then researches and writes a letter persuading the person to reply to the class.
"We write to all different people," said Charlie Elbert. "We write to some famous people and the governor. We get some responses."
So far, the class has received responses from President Barack Obama, actors Kiefer Sutherland and John Travolta, and sports stars Peyton Manning and Michael Jordan, among others.
However, students said the best part of the project is actually talking to those they write.
The class has had visits, in person or via teleconference, with Kansas State University football coach Bill Snyder, KSU basketball coach Frank Martin, Kansas University basketball coach Bill Self, KU football coach Turner Gill, Royals manager Trey Hillman, Shawnee Mayor Jeff Meyers and Jimmy Conrad of the Kansas City Wizards.
"At first I was nervous if people would come or not or if they would even respond," Sydney Walkup said. "The first person we wrote to was the mayor, and he came to see us."

Leggett's noticed a difference in the students' writing through the year, along with their attitude toward the subject.
"There have been definite improvements," she said. "Their writing has been a lot better with voice and conversations. I would say the most memorable thing would be how when I would start off the project I would talk about writing and there would almost be like moans and groans and then how their attitude for reading and writing would change. If we had a short week, they would make sure we still wrote a letter. We've also had a lot of parent feedback. Some can't believe their kid can write like that."