Colleagues, public pay tribute to fallen firefighter at memorial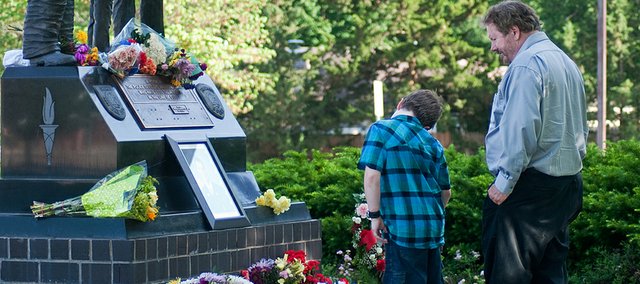 Rob Moritz and his 11-year-old son Andrew Moritz stood in front of the memorial for fallen Shawnee police officers and firefighters looking at the photo of John Glaser, the Shawnee Fire Department firefighter who lost his life during a house fire Saturday.
Rob Moritz said he brought his son to the memorial to pay their respects to the fallen firefighter.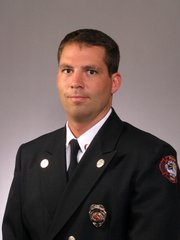 Continuing Coverage
Come back to shawneedispatch.com Thursday for a live video stream of the special firefighter funeral procession, beginning around 9:30 a.m.
We'll also have stories and photos from Thursday's events, plus any updates to the investigation into the fire's cause.
"We value and appreciate the wonderful people that are keeping us safe," Rob said. "It's a very sad time."
His son agreed.
"I think it's really sad that a firefighter died," Andrew Moritz said. And that everyone else liked him. I just think it's sad."
Fire Capt. Ray Pettigrew said a steady stream of people have made their way to Fire Station 71 to pay their respects, but the community's support has extended beyond the grounds of the station.
When firefighters have been out in town, people have been stopping them to extend their condolences.
"I think that it's just a great thing to have the community support us that way," Pettigrew said
A small memorial also has been put up by friends of Glaser at the site.
The memorial consists of Glaser's department photo in a new frame, along with a wreath and Shawnee Fire Department helmet with Glaser's name on it.
Pettigrew said, while the helmet wasn't actually Glaser's, it would be used and decorated in his honor.
"It's more to celebrate him." Pettigrew said. "We want to personalize the helmet with things that he liked. He like the Jayhawks."
Above the helmet, and below the statues of a firefighter rescuing a little girl and a police officer helping a little boy, is a memorial plaque for those Shawnee police officers and firefighters that have died in the line of duty.
In 1991, Don Gamblin was killed after being struck by a car during a routine traffic stop. Until Saturday, he was the only police officer or firefighter to qualify for solemn remembrance.
Pettigrew wasn't sure when Glaser's name would be added to that plaque but said it would be soon.