Republicans dominate voting in Johnson County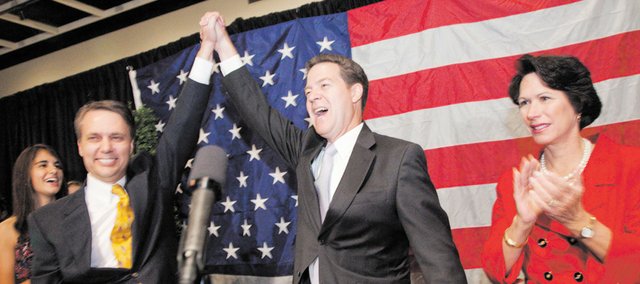 Any doubts about Johnson County being solidly Republican were erased in Tuesday night's elections, with candidates from the Grand Old Party winning every race but one countywide.
From the U.S. Senate race to the governor's race to contests involving legislative positions, county voters gave the nod to the Republican Party candidate with the sole exception in the 24th House District, where Democrat Mike Slattery defeated Republican Michael Foltz, 3,974 votes to 2,803 votes.
The unofficial countywide results were posted shortly before 10 p.m. by Johnson County election officials. All total, 182,312 ballots were cast in the county, a turnout of 49.82 percent.
In perhaps the marquee race of the night, Republican Kevin Yoder defeated Democratic challenger Stephene Moore for the 3rd Congressional District seat.
Yoder, a state representative from Overland Park, outpolled Moore by more than 2:1 in Johnson County. The count was Yoder 117,568 to Moore's 58,758. Throughout the district, which includes Wyandotte County and a portion of Douglas County, Yoder received 134,692 votes to Moore's 87,920 votes. Moore was trying to succeed her retiring husband, Dennis Moore, in the post.
Elsewhere in Johnson County balloting, Republican Jerry Moran, 120,334 votes, was rolling over Democrat Lisa Johnston, 54,506 votes, in the race for the U.S. Senate. Moran won statewide with more than 570,000 votes, 70 percent of the vote,
Johnson County and statewide voters also gave the nod to Republicans in statewide office races. Republicans Sam Brownback (governor), Kris Kobach (secretary of state), Derek Schmidt (attorney general) and Ron Estes (state treasurer) all won Johnson County.
In Statehouse races involving Shawnee districts, Republican Kelly Meigs defeated Democrat Bryan Cox in House District 17, 5,589 votes to 2,911 votes. Challenger John Rubin, a Republican, defeated incumbent Cindy Neighbor, 4,882 to 3,365, in House District 17. Republican challenger Brett Hildabrand, ousted first-term incumbent Milack Talia, a Democrat, 2,950 to 2,495, in House District 23. In House District 39, incumbent Republican Owen Donohoe defeated Democratic challenger Joe Novak, 6,399 votes to 3,950, in a race that stretched into Leavenworth and Wyandotte counties.
In the hotly contested race for chair of the Johnson County Commission, a nonpartisan race, former Overland Park mayor and current County Commissioner Ed Eilert defeated incumbent Annabeth Surbaugh, 83,793 to 76,025.
More local election coverage
Republican newcomer beats incumbent for 23rd District Kansas House seat
Rubin ousts incumbent Neighbor in Kansas House District 18 race
Meigs takes Kansas House seat in District 17
Young 'voters' give nod to Brownback
Yoder defeats Moore, puts 3rd Congressional District in GOP column
More like this story