Community key for Shawnee's newest pizza joint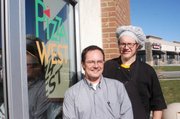 Dave and Cory Knubley want to meet you.
The brothers, who recently opened Pizza West in Shawnee, are striving to interact with the community over hearty craft pizzas, made-from-scratch pastas and a family-friendly atmosphere.
"What we want is a neighborhood restaurant," Dave Knubley said. "A local hangout is what we really wanted to create."
The Knubleys, who are both chefs and co-owners, started taking orders in August at Pizza West, 5436 Roberts St., at the northeast corner of Kansas 7 and Johnson Drive.
They're making a concerted effort to get out of the kitchen and personally greet each customer whenever possible.
They're also trying to become a part of family-packed west Shawnee, by hosting fundraisers for elementary schools and even offering kitchen tours for Boy Scouts or other groups.
"We really enjoy doing stuff with the community," Cory Knubley said. "It's been a lot of fun."
The Pizza West menu features original pizzas with a gourmet touch, a few with west Shawnee-inspired names such as the K-7 Kombo — pepperoni, hamburger, Canadian bacon, sausage and veggies — and the Mill Valley Muchacho — taco toppings over refried beans.
There are also signature salads, appetizers, house-special lasagna and artisan pastas with toppings such as bacon and spinach with alfredo, or chicken and red peppers with zesty adobo sauce.
If you like what you had, you can also take some home — Pizza West sells its homemade salad dressings, pasta sauces and pizza sauce by the jar.
The restaurant offers a salad and pizza bar every weekday during lunch and Sundays, Mondays and Wednesdays at night. Pizza West also delivers.
To help entertain kids, tables are topped with white paper and crayons, and the party room features a chalkboard wall. There are video games in the corner and flat-screen TVs in most of the booths.
The pair have been working double shifts almost every day and building up the restaurant through "sweat equity," Cory Knubley said.
Through the years, the brothers have cooked in establishments ranging from upscale fine dining to other pizza joints. They said they considered various restaurant concepts but settled on something they thought would appeal to families in today's economic climate.
"Pizza's still affordable," Dave Knubley said. "Pizza's easy to please people."