McCormick, Van Lerberg in top 10, St. James girls to 9th at 4A state meet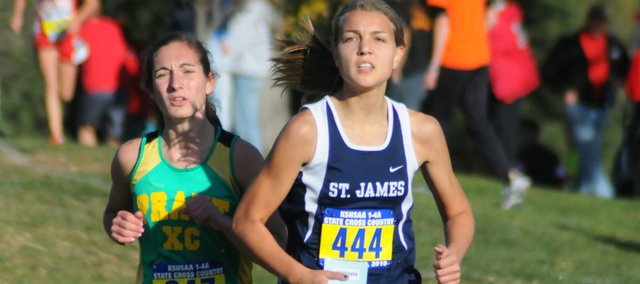 Although St. James Academy's top two girls cross country runners — Bridgette McCormick and Alexa Van Lerberg — were a tag team most of the season, that was not the case at the Class 4A state championships Saturday at Wamego Country Club, even though both finished in the top 10.
Photo Gallery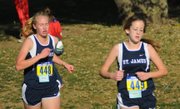 St. James Academy competes at 4A state cross country
For much of the four-kilometer race, McCormick stayed with the leaders along the way to a fourth-place finish in 15 minutes, 39.35 seconds. Meanwhile, Van Lerberg made a comeback in the final 1,000 meters and worked her way up to a sixth-place finish in 15:54.03.
Overall, St. James placed ninth as a team. Baldwin won the state title and De Soto was second.
"This was the first experience at the state meet for most of our athletes, and they might have been a bit overwhelmed by such a pressure-packed event," coach Rob Harber said.
The Thunder's third runner of the day was senior Erin Ressegieu who was the only other person on the team with previous state experience. Her high school career ended with a 70th-place finish and a time of 18:17.51.
St. James' fourth runner, sophomore Abbey York, took 82nd in 18:43.51. Junior Bridgette Westhoff rounded out the Thunder's first five by placing 85th in 18:57.24.
It's the fourth year St. James has sent runners to state, and Harber saw it as a building block for more success to come in the near future.
He said it was good experience for the Thunder's younger runners who hope to return to state next year.
"It is an electric atmosphere, and everyone in the race is really good," Harber said. "When they return, our athletes that ran in their first state meet today will be much more relaxed and able to run stronger races."