Northwest's dynasty restored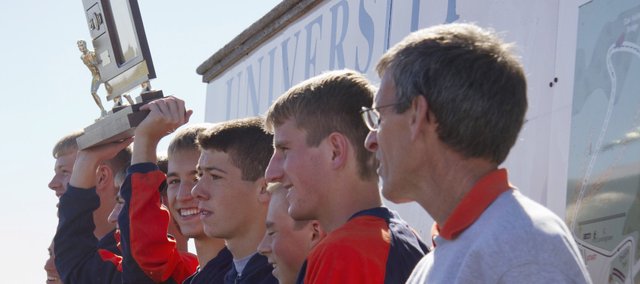 Lawrence — The two-year hiatus is now over.
Photo Gallery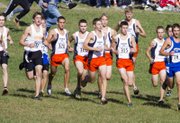 SM Northwest wins 2010 cross country state title
Behind an amazing pack-running performance that allowed three of its runners to finish in the top 10, the Shawnee Mission Northwest boys cross country team reclaimed the Class 6A state championship on Saturday at Rim Rock Farm in Lawrence, marking the 15th time in the last 17 years that the Cougars have taken the state crown.
After winning an incredible 14 state titles in a row, the Cougars had watched Lawrence High claim the last two crowns.
The two-year drought had begun to bring up uncomfortable questions for Northwest coach Van Rose and his runners.
"You start to wonder if you're ever going to get back," Rose said in referring to the past two seasons. "So we did more preparation in the summer — we hammered that. We had a good track season, which is really, really important. We did really well. I think they did a good job of running to win it."
The preparation was evident. After a dominant performance at last week's regionals, the Cougars performed a similar feat Saturday.
Northwest senior Aaron Thornburg was the Cougars' top runner on the day, finishing second overall with time of 15 minutes, 59.5 seconds, in the five-kilometer race. Sophomore Kirk Bado followed close behind with a fourth-place mark of 16:06.8, while senior Sterling Spencer earned the Cougars' third top-10 finish with a sixth-place mark of 16:14.6.
Sophomore Clayton Henderson became the fourth Northwest medalist of the day as his 13th-place finish came in at a time of 16:28.6.
The next three Cougar runners all finished in the top third of the 104-runner field with no racer finishing out of the top 30. Junior Anthony Yates claimed 22nd with a mark of 16:36.2 while seniors Harry Schroeder and Zach Palmer's times of 16:50.3 and 16:57.1 earned then 28th and 29th place, respectively.
After the race, Bado commented on what the team win meant to him.
"It's just a big honor to be a part of these guys," Bado said. "November 1, the day after the season ended last year, coach sat us down and said, 'These are going to be some of our goals next year.' And one of them was running together as a pack and ultimately winning a state championship. This group of guys behind me — I've never been closer to a group of guys. Every day we're out there just hustling our butts off, and this is the payoff for us. This is the culmination of a lot of pack running, preparation and perseverance."
The Cougar girls nearly matched their male teammates earlier in the morning when their point total of 96 came just 11 shy of state champion Olathe East and runner-up Shawnee Mission West. East edged West in a sixth-runner tiebreaker. Still, the Northwest girls' performance was more than good enough to earn them the third-place team trophy.
Junior Sarah Crawford was the top Northwest finisher with a mark of 16:15.8 in the four-kilometer race, good for 16th overall, while senior Shannon Thomas (16:16.9) and junior Jessica Johnson (16:18.4) earned 19th and 20th, respectively, in the 103-runner field.
Three of the remaining Northwest racers finished in the top half of the 103-runner field with junior Sarah Barnes taking 27th in 16:27.6. Sophomore Katie Nelson earned 40th place at 16:42.8 while fellow sophomore McKenzie Iverson grabbed 50th with a time of 16:54.9.
"We had three in the top 20," Rose said of the Cougar girls, "and I wouldn't have thought we could do that earlier in the season, so that was amazing."
At the end of the day, as the teams gathered around the trophy presentation podium, Rose wouldn't rule out a continued run at several more state titles.
"We've got a lot of good junior varsity kids," Rose said, "and Monday starts our next year. We're going to try to get better."