Prairie Ridge students get visit, lesson from athlete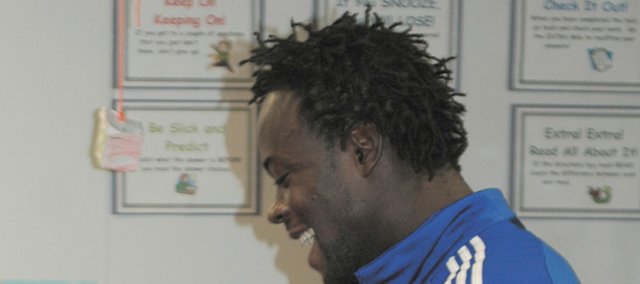 What do book projects on living organisms and a professional soccer player have in common?
A Prairie Ridge Elementary School third grade class.
Kansas City Wizards soccer player Kei Kamara surprised the students on Friday afternoon.
The class wrote to Kamara as part of their Power of the Pen project earlier in October. After receiving the letters, Kamara contacted Brandi Leggett, third grade teacher, about surprising her students.
While the visit and the organism book project don't seem to be related, they are.
The students are working on creating book and video projects on their classroom living organisms for the Organism Mania project.
Once the books and videos are finished, a portion of them will be sent to Sierra Leone, Kamara's home country.
During his visit Kamara answered questions and showed off some of his soccer skills for students.
Ella Shurley, third-grader, recalled writing to Kamara, but didn't think he'd pay a visit to the classroom.
"I asked him if he liked playing for the Wizards," she said. "We talked to him about the community service he does for Sierra Leone."
Tripp Star, third-grader, said the class even has things in common with Kamara.
"He does a lot to help Sierra Leone, and we do a lot to help our community," he said. "We did a lemonade stand for childhood cancer already this year."
Tripp said the book and video projects were going to be fun.
"Right now we're learning about our pets and writing the books," he said. "We have a bearded dragon, hermit crabs and a turtle and other stuff. Sending the books is community service because they don't have all the same things we do."
Leggett said the book and video projects are a unique way for the students to branch out to help others.
"When they are all finished with them, they will be giving some to Kei to be sent over to Sierra Leone. Other books created will support the Ethiopia Reads project to assist libraries in need in Ethiopia," she said. "Other books will be sent to soldiers so that they can distribute them to children in high-poverty countries."
Jacob Doyle likes working on the projects.
"It's showing people we care about them," he said. "And it make us like Kei, because he donates scholarships to his country and does a lot to help them."
Kei finished the visit by handing out and autographing posters for his new favorite fans, then performing tricks with the class' soccer ball.
"I was so surprised that he came," Tripp said. "I didn't think he would."