At Shawnee temple, Kansas City's Hindus at home in their community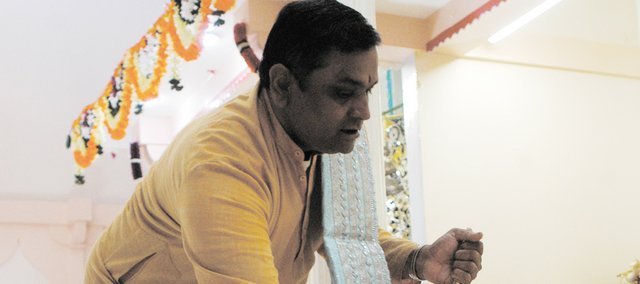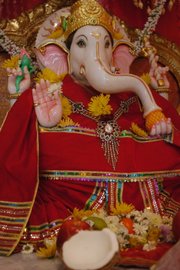 A fireworks display coming Saturday to Swarner Park will symbolize more than meets the eye, at least for most surrounding residents.
For Hindu people from across the metropolitan area and surrounding cities – whose central place of worship is located in Shawnee – the colorful display signifies the triumph of light over darkness, or good over evil.
Diwali, or Festival of Lights, is one of many annual celebrations of the Hindu Temple & Cultural Center of Kansas City, 6330 Lackman Road. The temple, the only such facility for many miles, draws Hindu people from as far as Lawrence and St. Joseph, Mo.
The temple's mission is to promote Hinduism's "spiritual and cultural legacy of inspiration and optimism for the larger Kansas City community."
About 600 people per week visit the temple to worship or to attend classes, temple President Ravi Mehra said. The temple's celebrations, planned in conjunction with various festivals celebrated in India, regularly draw 1,000 or more people.
Everyone is welcome, no matter what they believe, Mehra said. "Most are Hindu, but we get people from all walks."
The upcoming Diwali celebration is no different.
The temple will be open for pooja, or worship services, from 5:30 p.m. to 6:30 p.m. Saturday. Dinner is from 6:30 p.m. to 8 p.m.
A professional fireworks display is planned for 8 p.m. to 8:30 p.m. in nearby Swarner Park, at the northwest corner of 63rd Street and Lackman Road.
Reservations aren't necessary, Mehra said. Temple volunteers make a lot of food, and they have a kitchen on-site to make more if needed.
However, he said, eating isn't necessarily the main goal of dinner.
"The idea is to enjoy the time," he said. "Food is one thing which basically brings people together. It brings humanity tighter."
A cultural hub
The temple, built in 1991, provides a place for Hindu people to worship, congregate and learn Hindu culture.
"We wanted to build this place so you can connect with your roots," Mehra said.
More than a dozen colorful idols line the worship area, each representing a different blessing or aspect of life. Rituals involve bells, oils, candles and gifts of fresh fruit.
Certain gods and customs were once limited to the regions of India where they originated. But beliefs have propagated across the country, and they intermingle here in the United States.
"Even though everybody's a Hindu, they have different gods and beliefs within the custom," Mehra said. "Because of all this globalization, everybody's everywhere."
Hindu people come to the temple to worship personally, but two priests – including Atul Trivedi of Shawnee – also perform ceremonies for various life events, including the birth of children, the purchase of a home and even the first time a child writes.
"Every occasion is considered as a gift of God," Mehra said.
The temple also offers free classes that are open to anyone, including Hindi language and yoga. Volunteers teach all the classes.
The temple runs on donations, and various groups within also raise money for outside causes.
Earlier this year, Mehra said, the temple's youth group raised more than $6,000 for the Haiti earthquake relief effort.
"We try to give back to the community," he said.
'Festival of Lights'
In India, Diwali signifies renewal of life and heralds the approach of winter and the beginning of the sowing season. Many Indian merchants begin their fiscal year during Diwali to attract blessings from Laxmi, the goddess of wealth.
The festival symbolizes a shift from darkness to light, from ignorance to knowledge of truth, or the triumph of good over evil.
Mehra said he's excited that this year's celebration in Shawnee will include fireworks, because his 10-year-old daughter, who moved to the United States as an infant, and others like her have never experienced Diwali as he knows it.
"Hopefully this will give her at least a glimpse of what we typically do in India," he said.
Mehra likened Diwali to the Christmas holiday. Christians attend church services to celebrate the holiday's religious significance, but they also enjoy meals and celebrations with family and friends.
"Diwali is not just a religious aspect," he said, "it's a cultural aspect, too."