St. James completes 4A 3-peat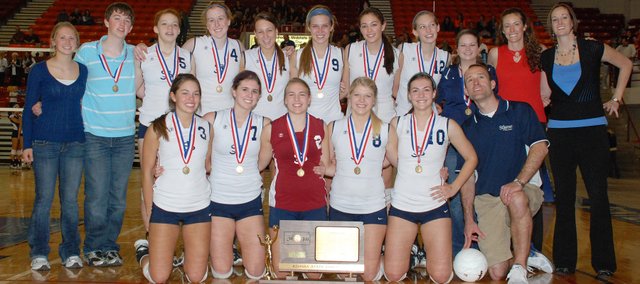 Salina — St. James Academy shook its opponents with heavy hitting and frustratingly-good defense throughout the Class 4A volleyball state tournament, but the Thunder fully unleashed their fury during the state finals in the form of Annie Reilly's vicious jump serve.
Photo Gallery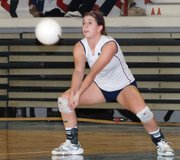 St. James Academy volleyball 3-peat
St. James squared off against Topeka Hayden in the state finals Saturday at the Bicentennial Center, marking the fourth straight year the squads have met for the title. Hayden won in 2007, and St. James captured championships in 2008 and 2009. Now, after winning game one of the finals, 25-15, the Thunder held a 3-1 lead in game two and were looking to finish the job. A kill by senior Morgan Voorhes gave St. James a point and control of the serve. That's when Reilly stepped behind the service line and essentially ended the match.
"Once I get going, I feel like I can never stop and I just think 'this next one's in,'" Reilly said.
Reilly, a junior, used her lethal jump serve for nine straight points. Three of her serves found the floor for aces. Others were nearly impossible for Hayden to control, resulting in free balls that the Thunder easily finished for points. When Reilly was done, St. James led 13-1 and was on cruise control to a 25-8 victory that sealed the program's third straight state championship and capped a 44-1 season.
St. James' lone loss of the season came against Class 5A state champion Bishop Miege in the team's fourth meeting of the season. Saturday marked the fifth time St. James faced Hayden this season — and the Thunder won all five.
"We talk about how our rivals are Miege and Aquinas back home," St. James coach Nancy Dorsey said, "but in the grand scheme of things, our rival is Hayden. Every year we know if we want to win we're know we're going to have to find a way to beat them, and I think there's a little pressure when you've already played them four times. You're like 'OK, my goodness, there's extra added pressure to that,' but they just handled it so well."
Prior to facing Hayden in the finals, however, St. James had to get past Abilene in the semifinals. With so much focus on a possible St. James-Hayden showdown, senior Molly O'Brien made sure not to overlook the Cowgirls. In one of her finest performances for the Thunder, O'Brien had five kills, five aces, three block assists and served a 13-0 run in the 25-15, 25-11 semifinal victory.
"I know a lot of our teammates were looking forward to Hayden in the finals," O'Brien said, "and I just really wanted to make sure that we were focusing on every point of the Abilene game first because without beating them we weren't going to get to the finals. I think we just really wanted to set the focus there first and carry that momentum into the Hayden game."
The momentum didn't come instantaneously in the finals. Hayden — which took St. James to three games just 24 hours earlier in pool play — made things interesting for a little bit.
Game one of the finals opened as a slugfest as the squads swapped points to a 5-5 tie. Kills by senior Hanna Forst and junior Katie Dulek, along with a Hayden net violation and a Wildcat hitting error gave St. James a 9-5 lead and forced Hayden to call a timeout.
The Wildcats came out of the break on a 6-1 run and built an 11-10 lead. A kill by Voorhes capped a long volley, however, and ignited St. James' game-ending 15-4 run. Defense was at a premium throughout the run. The Wildcats had numerous attempts to score, but the Thunder's scrappy defense and precise blocking kept points alive and allowed St. James to score.
"We work so hard on our defense," junior setter Paige Brown said. "Defense is really a mindset, and all of our defensive players have the mindset that we're just not going to let anybody put the ball on the floor. We're going to kill them with frustration trying to hit it against us."
Brown opened game two with an ace and helped the Thunder take a 3-0 lead before a service error put Hayden on the board. A kill by Voorhes sent Reilly to the service line, however, and moments later the match was over.
The state championship closed out the careers of O'Brien, Voorhes and Forst. For Forst, it marked the fourth time she has finished a season in the state finals and the third time she has hoisted a volleyball state championship trophy.
"It feels incredible," she said. "And to do it with this group of people makes it even more special. I love these girls to death."
Forst finished her final state tournament with a team-high 62 kills, as well as 30 digs and six solo blocks. Voorhes had 60 kills at an efficient .613 percentage and also contributed three solo blocks and two block assists. O'Brien had 11 kills, seven solo blocks, eight block assists, 20 digs and 15 aces. Brown posted a team-high 112 assists and added 25 digs. Reilly fired 11 aces, 26 digs and had five kills from the back row. Junior libero Sheridan Zarda — who has been a part of all three title teams — had a team-high 41 digs. Dulek had 19 kills, seven solo blocks and eight block assists. Freshman Arianna Person contributed 16 kills, six solo blocks and nine block assists.