Program educates parents on shaken baby syndrome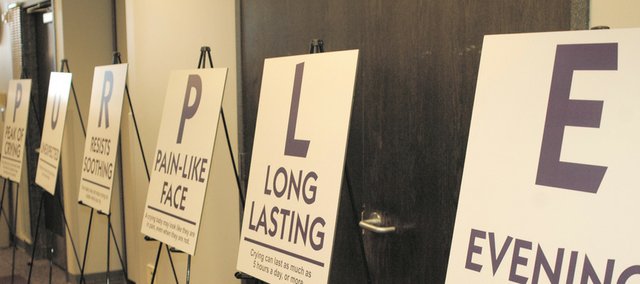 In 2008, eight babies in Sedgwick County died from shaken baby syndrome.
In 2009, after the implementation of The Period of PURPLE Crying, the number of deaths related to shaken baby syndrome dropped to just two. So far in 2010, only one baby in Sedgwick County has died of shaken baby syndrome, according to Janet Schalansky, president and CEO of Kansas Children's Service League.
The KCSL, along with five metro hospitals, announced Friday a partnership to bring the Period of PURPLE Crying to new mothers in the area, including Shawnee.
The Period of PURPLE Crying, a shaken baby syndrome prevention program, is an evidence-based program offered by the National Center on Shaken Baby Syndrome. The program approaches abusive head trauma by helping new parents and caregivers to understand the features of crying in normal infants.
"We want to educate parents and caregivers that an infant crying is normal," Schalansky said. "They can be dry and fed but still cry. That can cause frustration and that leads to shaken baby syndrome."
The program will now be offered to all parents of infants born at Menorah Medical Center, Providence Medical Center, Saint Luke's South Hospital, Shawnee Mission Medical Center and the University of Kansas Hospital.
The program was developed in part by more than 25 years of research on crying characteristics by Ronald G. Barr and other scientists.
PURPLE stands for the triggers of frustration.
• Peak of crying – typically between the second and third month but can last up to the fifth month of life.
• Unexpected – crying can begin for no reason; it can also stop for no reason.
• Resists soothing – the baby does not respond to soothing measures, however, soothing can decrease the amount of crying by 50 percent.
• Pain-like face – the crying may appear to cause the baby pain.
• Long lasting – bouts of crying can last anywhere from 30 minutes to hours.
• Evening – the time of day many babies begin to cry.
The program employs a three-dose strategy to introduce, reinforce and promote the dangers and frustration of infant crying.
The first dose: Parents, both mothers and fathers, receive a DVD and an 11-page booklet on PURPLE Crying. When possible the parents will watch the video with a hospital nurse available to answer questions. The material is available in 10 languages.
The second dose: Home visitors and pediatricians reinforce the message by talking to parents about concepts taught in the program. If a parent did not receive the program at the hospital or had a home birth, the materials would be readily available through pediatrician and home visits.
The third dose: The Period of PURPLE Crying public education campaign will be available to those who did not receive the material through the hospital or doctor visits. This portion of the program will bring the message to grandparents, significant others, neighbors and relatives.
Schalansky said the program is now able to reach 41,000 of the 42,000 births annually in the state of Kansas.
Amy Terreros, a nurse practitioner from Children's Mercy Hospital, said the program teaches parents that crying is normal.
"It gives parents realistic expectations," she said. "Crying can be extremely frustrating, but it's not a reflection of a parent. We want them to understand that it's okay to be frustrated. It's what you do with that frustration that matters."
Terreros recalled a case she worked on where a three-week old baby died from shaken baby syndrome.
"The mother said she never received this information. I hope I never have to hear that again," she said of the programs new implementation in the metro.
The program is funded by the Kansas Department of Social and Rehabilitation Services, the Kansas Children's Cabinet and Trust Fund, as well as, a number of state-wide and area foundations.
"This is 100 percent preventable if we educate parents and those that care for our children," Terreros said.